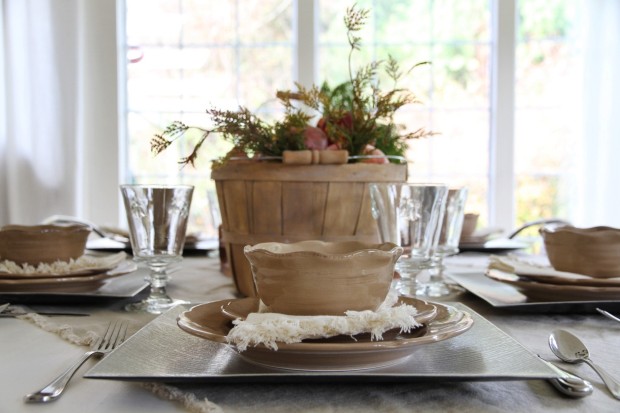 Hello Friends, I am so excited and honored to be joining this incredible Thanksgiving Tablescape Tour a bountiful harvest hosted by Bre over at Rooms For Rent. A fantastic group of talented ladies have been sharing their tables, all set up for Thanksgiving this entire week.  I have been completely inspired by their vision and story behind each setting.  I can't wait to see the rest throughout the remainder of this week.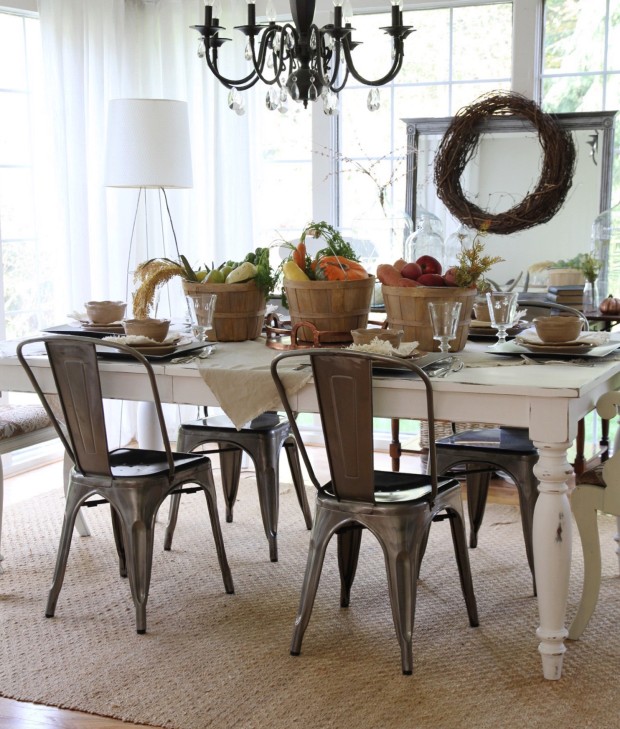 I knew I wanted to put a subtle but modern spin on a traditional table setting by using weathered materials, sleek shapes, mixed metals and a color gradient. It was equally important to me to keep some classic elements on this table so it would fit the style our home. I started brainstorming how to make this work on a budget and how to utilize what I aready had.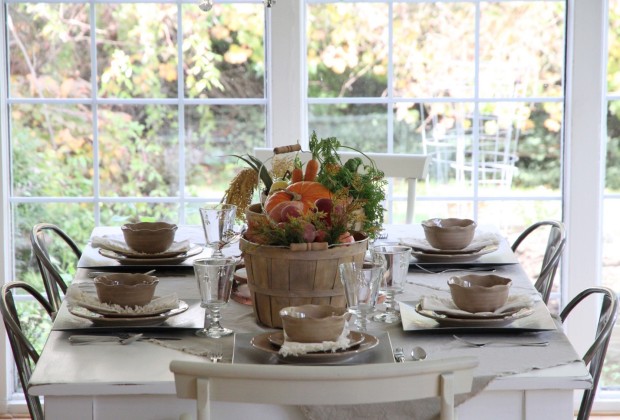 When I began thinking about what the centerpiece would be, I knew right away I wanted to incorporate apple baskets. These wooden baskets are extremely affordable (especially at 50% with coupons). I gave them a quick white/gray wash with chalkpaint so they would have the weathered look needed to complete my idea (unfortunately this paint is not food safe  – so make sure to take that into consideration when using food).
Once I decided on the baskets as a focal point, the rest came together quickly.  Apples alone would have been a great filler. However, remembering that I desired more color, I chose fruits and vegetables that could be arranged in a gradient of shades going from reds, oranges, yellows and greens.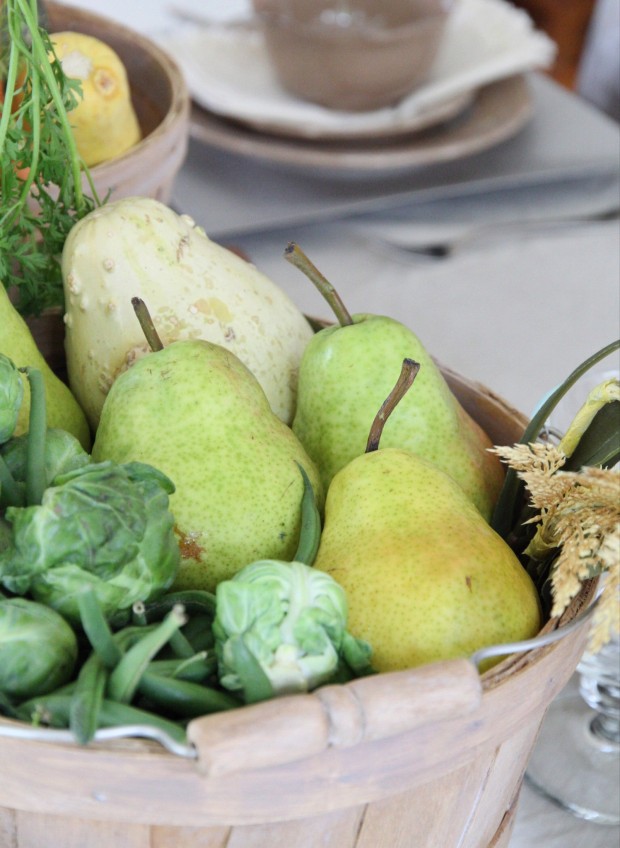 Each piece of produce was picked based on some of my favorite dishes.  Cranberry Sauce, candied yams, mashed potatoes, apple or pumpkin pie, stuffing, brussel sprouts, pears and green bean casserole.
The chargers are square and have the straight lines I was looking for when tying in the modern/industrial feel, but my favorite dishes kept it soft and classic like the rest of our decor.
Frayed linen drapes the majority of the table giving it wrinkled texture (tutorial can be found on Craftberry Bush) and my Painted Fox Treasures tray (link in sidebar) mixes metals with the chargers, utensils and chairs.
(Copper Tray from Painted Fox – affiliate link in sidebar)
This look could easily be repeated with any set of dishes and by filling baskets with fruits or veggies. Keeping the produce to one color would be a pretty variation also.  Other than weathering my baskets, this tablescape was easily done by simply putting things into place.
The best part to setting a table is why you are setting it. It is put together for loved ones to see, enjoy and experience. I know for our family, sitting around the table at Thanksgiving is a time to be thankful; it is a valuable season of gratitude that loved ones share together.  Through the years my holidays have looked very different; they have been spent with my parents and brother, away at college, as a newlywed, with in laws and now with children of my own.  What makes these gatherings special is the people.  I look back at the memories spent with grandparents who are no longer with us, feasts and laughter that left our bellies aching or watching my first born try cranberries for the first time. I sit at each and every dinner table thankful for those gathered around it and for those who made it possible to hold this tradition both now and then. It is bountiful, both in harvest and in love.
Thanks so much for visiting. Don't forget to stop by the other amazing women sharing thier tables today (they are linked below) and you can also head to Bre's Rooms For Rent to start at the begining of the tour.
Shades of Blue Interiors | Jeanne Oliver Designs | Zevyjoy | Liz Marie Blog | Julie Blanner