Hello there friends, I hope that you have been having a good week so far! I know that I am not the first to write a post about the pros and cons of using marble in your home or my opinion may not feel revolutionary ;)… But it will be my experience and I'd love to share how we feel about living with it now for nearly 3 years.
We have it in several areas of our home. You will find it on the counters and floors of our bathroom…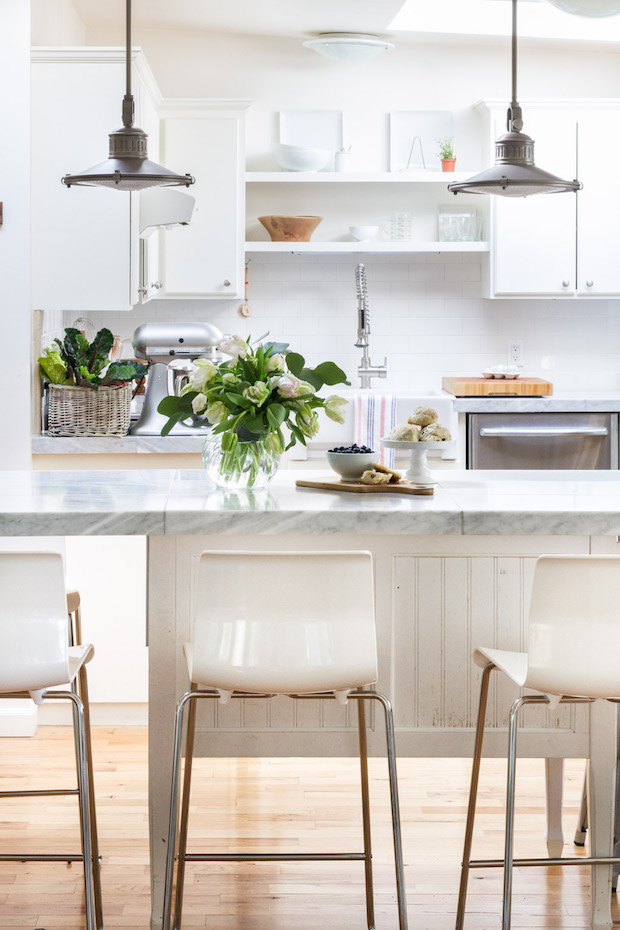 The counters in our kitchen…
And in our formal living room. So here is the verdict, I LOVE it! These are the reasons I love it: It is light and bright, smooth, clean and just so so classic. I feel like it sets the tone for our small home (design wise).
Although I love it, here are some of the cons involved in using marble throughout your home… It can stain, it can etch, scratch and dull. Especially in the places that get used the most (with kiddos running around racing cars, making spills and everybody just living in the house, haha).
So it may seem silly that I would say I love it even after all those cons. Well you see, I appreciate it despite the cons. I love it for the imperfections and much like the rest of our home that is what in fact gives it charm.
If I let the worry of citrus making contact, or water drips causing marks in the bathroom, then I would NOT enjoy this material. I think it is important to make the choice knowing that it will show wear and tear. While it does show so much, it still looks elegant and it doesn't make a difference to me.
Just like our white furniture, we do have rules we try to instill. Things like we use place mats when coloring or eating, we keep scratchy toys on the floor, and we use our cutting board plenty for cutting and prepping messy things. We wipe up surfaces and floors right away and use gentle (or specific) tools and cleaners to do so.
So it is a big yes for me when it comes to marble! I hope you see there is no right and wrong when it comes to marble materials, white sofas, neutral colors etc… What matters is what fits into your budget, what you will enjoy despite how it looks (more how it functions) and will remain something you will love over time (years and years). I hope this post helps you navigate potential materials you may consider for you home! Thanks so much for stopping by!