I love changing over my linens for summer, with fresh breathable ones!
*This post is sponsored by The Company Store.
How to choose fresh linen for your bedroom!
Hello there friends and I hope your summer has been off to a good start. We are finally getting all of that hot summer weather that this California girl dreams of ;)… Even though I may LOVE all this sunshine weather, doesn't mean that I don't find ways to make things a bit more comfortable through all the heat. Which is why I am excited to share how we teamed up with The Company Store to bring linens and fresh bedding into our bedroom for the summer! Providing both comfort and beauty to our space!
As you can see we changed out our duvet and blanket for these luxurious linen ones (Comfort Wash Solid Linen Duvet Cover  or Natural Belgium Linen Fringed Throw).
And when I say luxurious, I mean it. If you have been joining me here for a while now, you may be aware of my love for linen, haha. No really though, you will find it in my sunroom, our kitchen and now here in the bedroom! And this linen from The Company Store does not disappoint!
These pieces are great for the season as having linen allows for things to breath with those warmer days/nights.  Another bonus, is that they wear well with their wrinkles (that is what I enjoy most about linen, is its' ability to be even prettier with wrinkles).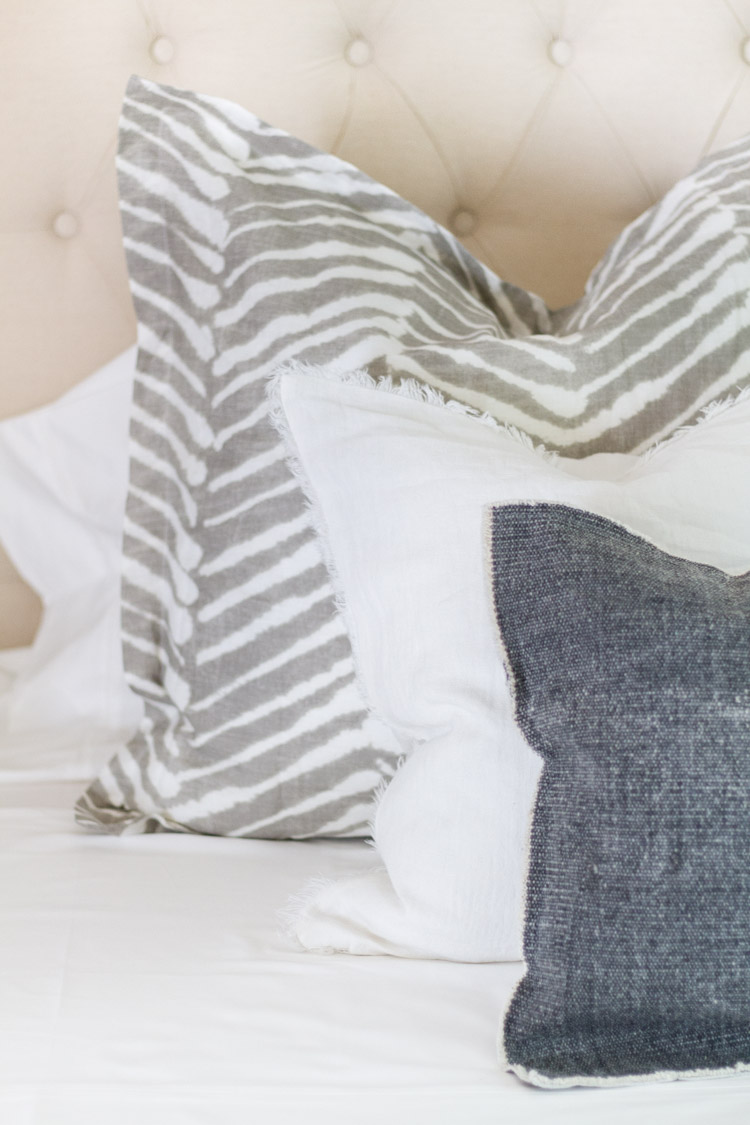 I couldn't resist  incorporating these pillows that The Company Store sent (16 x 24 Slate Gray Stone-Washed Pillow Cover, White Belgium Linen Pillow Covers and 2  Euro Danson Linen Geo Shams) with that same linen quality and they pull the whole look I was dreaming of for these carefree days…
To finish things off we chose 700 Count Sateen Sheets which are so soft and so cozy sheets. They make getting into bed at night something to look forward to! The quality is seen in the hemstitching and the feel of the silky fabric. Even though they are hidden behind all their gorgeous linen, I have to say that the Firm Feather/Down Pillow Inserts are everything I look for when wanting fluffy, pillow chopping worthy inserts!
It is amazing what a difference it makes to switch out bedding and how fresh/clean it feels each and every time. The Company Store has many beautiful sets/pieces to choose from and can make getting the bedroom comfortable for these summer months easy!
Our bedroom is actually the coolest spot in the house (no pun intended) as we have a large tree that covers this side of the house. So on those hotter days, it seems everyone finds their way into here. And with all the new fluffy goodness sported on the bed, these two couldn't seem to pass up a chance to read and cuddle up for the afternoon.
I hope you found some inspiration in our change here and maybe it will give you some ideas too. I always appreciate you stopping by and taking the time to visit with me, I truly do!
*Thank you so much to The Company Store for sponsoring this post.