Check out all the beautiful details in our renovated bathroom reveal!
Hello Friends and I am so excited to have you here today as I am sharing our completed stylish bathroom! This was a design dream come true to complete a bathroom sponsored by Wayfair and now I get to show you all the eye catching details (insert squeal)…!!!
To say we are grateful, humbled and thrilled are understatements for this opportunity. After picking out our diverse materials and expedient shipping, we (just the hubby and myself) completed the entire space in less than 30 days! We learned a lot through the process as well (thanks to a few too many phone calls to our sweet dads for their advice, ha!) and took so much pride in getting this beautiful space done. I'd say Tyler and I make a pretty good team; sure we have our moments ;), but always feel the reward of teamwork and accomplishment after projects together.
Now onto the elegant details! Much like the rest of our home, I wanted a room that was light and bright with neutral accents throughout.
Something that would flow with the rest of our rooms and feel like it was truly part of our house. This is the only bathroom in our home and there are four of us using it… So you have heard me say this before, but we really learn some important lessons when sharing this space day to day as a family. So giving it an upgrade was really a fun bonus with all that lesson learning =)!
As you may have noticed we have marble throughout our kitchen and I wanted to incorporate that look here as well.
We started by picking out this complete vanity. Our previous vanity was much shorter and smaller; we were able to go a bit bigger with this one and increased our surface space by at least five inches. This particular piece has an exquisite polished marble top and traditional fixtures.
I chose to pair it with a marble floor as well. I really wanted something that was traditional but had some type of diverse pattern to it, so these 2×2 hexagon tile sheets were the perfect fit. They bring a fun interest to the bathroom. Wayfair's Home Improvement Department made it easy to pick out our favorite materials with the necessary budget and find ways to get the most of what we had envisioned.
And here is our new toilet! We were really looking forward to a newer toilet and this one fit the bill. It is compact and wonderful for the spot where we needed it to fit.
We had beadboard siding originally in our space and decided with all the nice additions we would change up the look with some board and batten. We learned some new handy finishing skills and are really so happy with how this contributed to the whole look.
Our little vanity before was quite low, so having a vanity that is ergonomically correct has made washing hands or brushing teeth a bit more comfortable, for the grown ups at least ;)… And you may be thinking that fitting a larger (both wider/taller) vanity in this tiny space would make it all feel crowded?! But in fact it has been the opposite… We have been amazed at how the room opened up by making these few changes.
And while the space is neutral in tone, having bright and bold natural elements bring life and color to our newly renovated dreamy bathroom.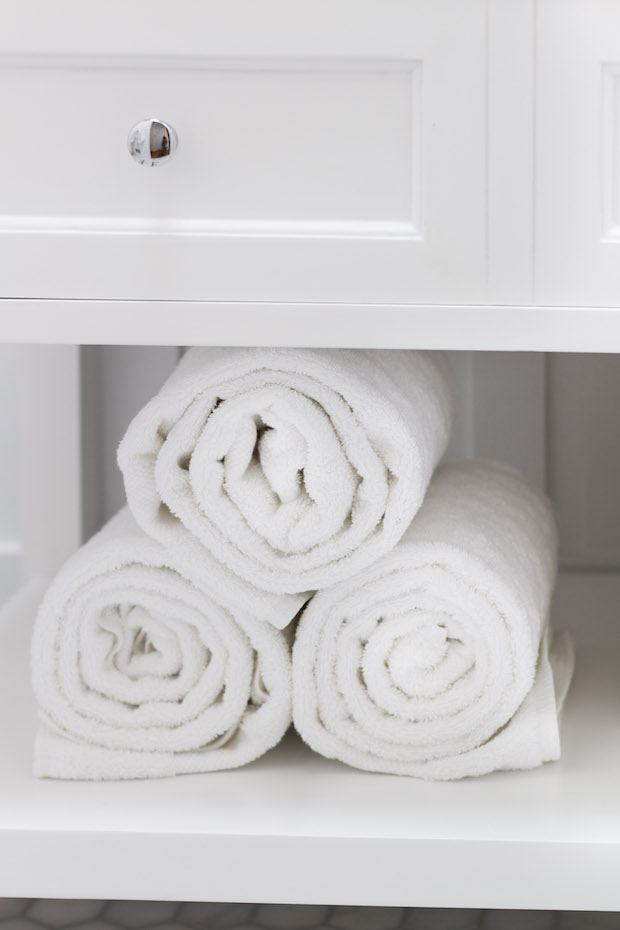 Storage is only needed and fits all within the vanity now which is such a perk!
Whether it is in the two large drawers or extensive shelf down below.
Everything feels clean and I really wanted for it to have a minimal aesthetic with bold statements and accessories.
Such as patterned tile, straight lines in the vanity and coordinating chrome fixtures seen both in the faucet and lighting.
I picked out this vanity light so that it would mimic the modern farmhouse style of our other lighting fixtures while working with the eclectic style of our spaces whether they be cottage, industrial, bohemian, mid-century etc… I really enjoy that you can see the bulbs throughout and we inserted Edison bulbs to really enhance that extra detailing.
Lastly, we picked out this round bamboo mirror to finish everything off. I hoped for something that would be larger in size and to also be a major focal point. Again, it brings a modern classic feel and has subtle wood detailing on the side which adds warmth and depth.
We completed this space within a budget of $3000 and couldn't be happier with the outcome. These changes are a big upgrade for our family and have made using this single bathroom for the four of us a little more enjoyable ;)… Actually MUCH more enjoyable!
Here is a list of the pieces we have used from Wayfair here below:
I appreciate you taking the time to visit today and see our upgrade and thanks so much for joining in along the renovation journey! A very big thank you to Wayfair for partnering with us on this project and supplying the products to make it happen. You can find an article regarding our renovation over at Wayfair as well!