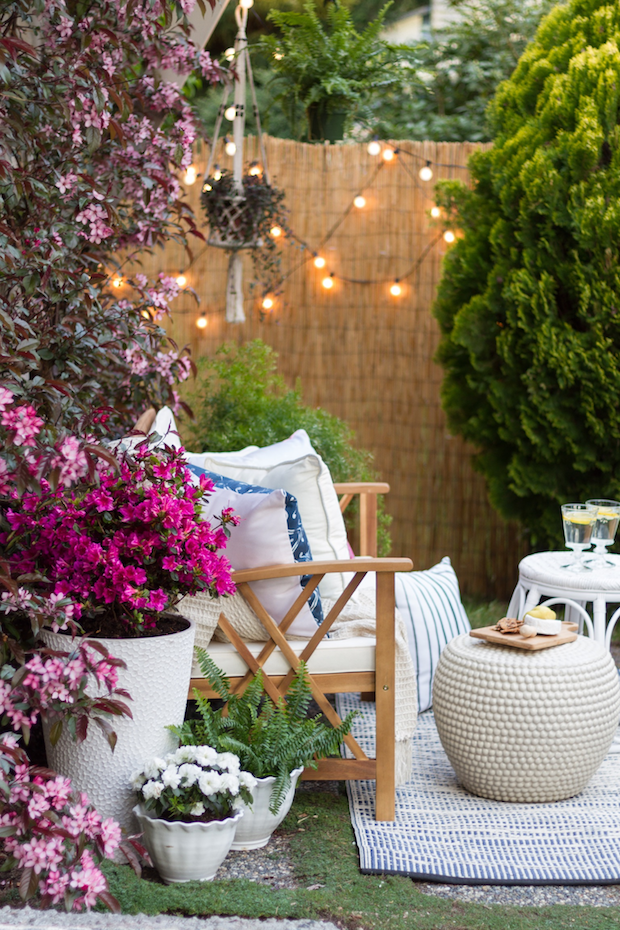 Hello friends! Hope each of you are well and I appreciate you visiting with me today! I have partnered with Wayfair for this fun patio post! I am showing this front little patio of ours and how I decorated it in three separate phases, each with different price points and accessories too.
Before I go into all of that, I thought it may be interesting to show you an empty spaced "before" photo… It is a quaint little spot that we use when the kids are playing in the front with friends, riding bikes or as an overflow for when we have many visitors at our small home. Many years ago, we tore down a little wall here at the front door and created this open space. We planted a small crab apple tree along the wall that has grown quite large over the last (nearly) decade and when it blossoms there is nothing like it.
Tyler and I leveled the ground, laid the large stepping stones and then planted the low growing moss. Of course it could use some more work, but suits us just fine :). So when we had the opportunity to spruce it up a bit, I jumped at the idea to get creative and have a good time with it.
As I go through the process, I am going to share how we took it from an empty space and filled it with furnishings, accessories and then pots with greenery/flowers. Each step totaling around $500 dollars, but looking great on its own or added together as I specify below.
Phase One: Furnishings
I chose this simple set to start because it came as a conversation set with fantastic details. All by itself it really draws attention without overdoing it. The clean lines work well for any style and add a little modern detailing too. I wanted to make sure and throw in some garden stools with varying size (please note – I did spray paint the shorter stool as I ended up wanting it a matte cream so this is not the original color). These are excellent to invest in because they can be moved around as side tables, coffee tables, extra seating and so much more! Plus, they inexpensively break up a matching set to make it look interesting. The great thing about all of this is that it is a wonderful way to start a patio and accessorize later too. Seating and tables are the foundation – the most important thing to have!
Here are the furnishings seen up above:
Ceramic Stool by Cole and Gray
Larry Rattan Wicker Garden Stool
Step 2: Accessories
Accessories make things a bit brighter, bolder and fill the space with texture. You can never go wrong with a number of pillows and mix up the patterns. Again, the idea is to change it all up. Soft blankets such as these seen above with tassels and fringe make the space inviting and cozy. A festive rug brings the space in making it all connect and easier for bare feet. Another thing I like to think about when choosing outdoor accessories is to pick things that can double indoors because you are also doubling your investment. All the stools, textiles, etc can be made to look great inside the house as well. We get a lot of rain around where I live so this is something I ALWAYS keep in mind ;)…
Here are the accessories seen up above:
Smetana Indoor/Outdoor Throw Pillows
Valley Talk Indoor/Outdoor Throw Pillows
El Dorado Burlap Indoor/Outdoor Throw Pillows
Eggshell Weymouth Indoor/Outdoor Throw Pillows
Step 3 – Pots and Greenery/Flowers
To finish everything off you can add pots with greenery and flowers. I love how adding colorful blooms and vibrant greens really liven up the space. It also encloses the space making it really feel like an enchanted area or garden. These quality pots of differing size and finish help bring height to the area as well.
Here are the Pots/Planters seen up above:
Valencia Composite Pot Planter
Cosmopolitan Plastic Pot Planters
Alpine White Crescent Garden Resin Pot Planter
Weathered Terracotta Crescent Garden Resin Pot Planter
2-Piece Tuscany Faced Cachepots Ceramic Pot Planter Set
This outdoor location of our home really is teeny tiny so it is possible to create something beautiful anywhere – it truly is!
Working with the details of your home and making them shine.
The pinks play off each other and the blue/black prints feel bold against the feminine tones/patterns. I am enjoying the fun designs on all of these comfy pillows!
As the weather has warmed up we are finding so much joy in the sweet outdoors.
Having cozy spots to curl up, listen to birds, breath in fresh air.
This year more than ever for some reason, I have really craved being outside and have found delight in making spaces just like this.
Taking in all the special details of home both inside and out.
Making it a safe and comfortable place to have memories, make mistakes, to learn, to grow and to do everything in between.
I hope this serves some inspiration as we enter into the summer season as you may be getting your spaces ready too. I humbly share all these things with you and always do appreciate you find the time to join me here!
A big thank you to Wayfair for partnering with me on this project and providing the pieces seen above. All opinions are 100% my own.