Hey there friends – thanks for visiting today and thank you so very much for your sweet words about our single bathroom renovation, it means a lot to hear what you all thought! Speaking of bathrooms, you may have read that that is our ONLY bathroom in the house… While our house is not super tiny, it is smaller and it does require solutions at times. Living here for nearly a decade I have learned a few things along the way on how to solve some of those issues. That is why I started a little series to share some tips on how to make it work in smaller spaces and that living in these spaces really doesn't mean living less or with little design. You can find my first part of the series with kid's rooms and today I am moving us into the kitchen.
These are basic ideas and some might seem super obvious 😉 – but I do love to make a good list so here we go! These are simple ways we make the most of our kitchen and limited cabinetry. The heart of our kitchen is a small square and it can get crowded fast. We have almost learned a rehearsed dance when two of us have to be in there working at the same time.
Cabinet Organizers…
These risers and different inventions are so helpful when it comes to doubling the space in small cabinets. As you can see here we get twice the storage for dishware when using a shelf riser. In fact, it has been on my list to get more of these because they are genius!
Lazy Susans…
This may not be available to everyone – but if you can incorporate it or build it into your plans I highly recommend Lazy Susans for cabinetry that is set back in corners. Or shelves that slide out. You can see here we have a corner cabinet and inside of there is a Lazy Susan – which means I can use every square inch of the space. Without an official pantry, we have made this corner cabinet the designated pantry.
Wall Storage/Hooks…
We have the blank wall that sits here as you walk into the kitchen. I decided to throw up this DIY kitchen rack DIY kitchen rack and it has been perfect! Having hooks like this allows you to hang pretty items that are also useful. Such as aprons, strainers, pots/pans etc…
Display Bowls…
I like to keep some of my dishware out and especially the larger servingware since it won't fit mostly anywhere else. I also use it to hold all the fruit and veggies that do not need to be refrigerated. Again, this is important because we have limited counter space and I try really hard to keep our counters clear for the most part.
Open Shelving…
Like I mentioned above it is sometimes nice to display dishes out in the open. It brings interest and detail to your spaces all while being useful. You may start to notice a pattern here… that small spaces can work really well with some intentional thought and purposeful positioning.
Extra Built-Ins…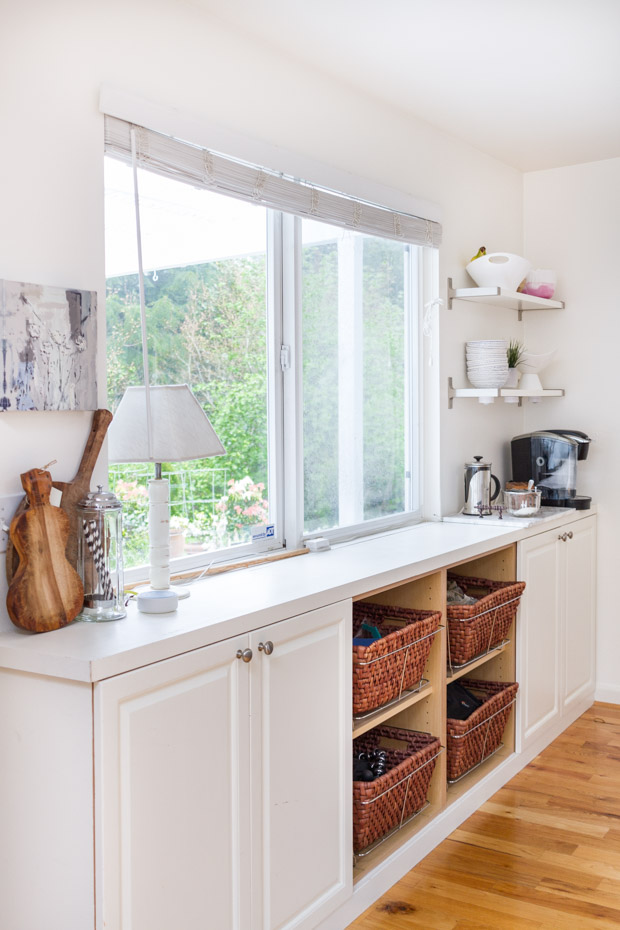 Like the Lazy – Susans, this may not be an option for all but when we moved into our home we added extra cabinets under the window. The space was not getting used and we needed more room for bakeware and pots/pans. And since the kitchen is small, it works just fine to have these things on the other side of the room. It is a short walk away when needing them and I don't mind ;).
Pretty Accessories and Tools…
As you leave things out because there isn't room to store them away, invest in tools or accessories that you don't mind having out. Such as pretty scrub brushes, bottles, or as seen below – spoons and whisks.
Tuck Away…
Our microwave is tucked away behind the fridge where it is hardly ever seen. I would love to have it out of sight completely but we really don't have a spot to do that so this is a good compromise. It is something we use often enough as well as our blender, so they sit inconspicuously together here.
Use Dual Purpose Furniture…
Find furniture pieces that also have good storage. Our island has worked for holding paperwork, crafts and so much more these past years. It is central to where we need it and out of sight when we aren't using it. I have some plans to change this sweet island base this summer, but it has been a wonderful help in our kitchen!
Get Organized…
I love organizing and I am fully aware that not everyone feels the same way ;)… And while this is not absolutely necessary in a small space it really can help. I have had seasons where the drawers are packed and things are overflowing (which is fine too). Although, when I can streamline and declutter a bit, my cabinets and drawers thank me for it – ha! Truth is though, tucked behind different cabinets, not everything is perfectly organized and that is ok as well. I have been working on making this kitchen work for us many years now and some days it feels the other way around. I'm alright with giving it my best, using what I know and passing those little bits of info to you. I hope that you think they are helpful as well!
Thanks again for stopping by and if the weather allows I will finally be sharing our back outdoor patio with you next week! I can't wait…