I am sharing with you today my outdoor DIY boho-chic side table that you can make yourself!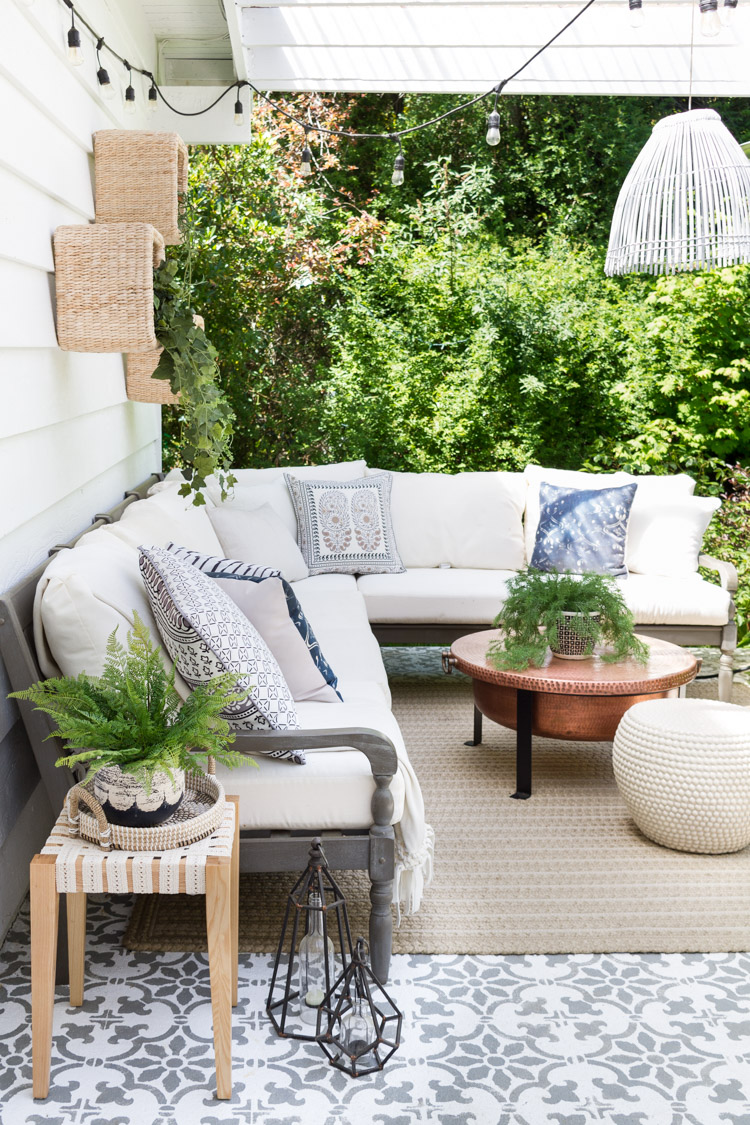 Hard to believe that summer is right around the corner?! I am so ready and we are finally getting going with the preparation of our lovely outdoor spaces. In order to kick it all off, I am joining my sweet friend Krista at The Happy Housie for the Summer Seasonal Simplicity Series! Today I am showing you how to make a sweet little boho chic side table.
*I wanted this for our outdoor space (which is covered) so please note, if you truly wanted it to be an outdoor table you would need to use materials that could handle the elements. I knew that ours would be safe from wet or intense heat, so while it isn't technically an outdoor piece, I could still make it work.
I love to mix and match outdoors as much as I love to indoors. So this side table brings some summery vibes to the space.
Here is what I used to make this table…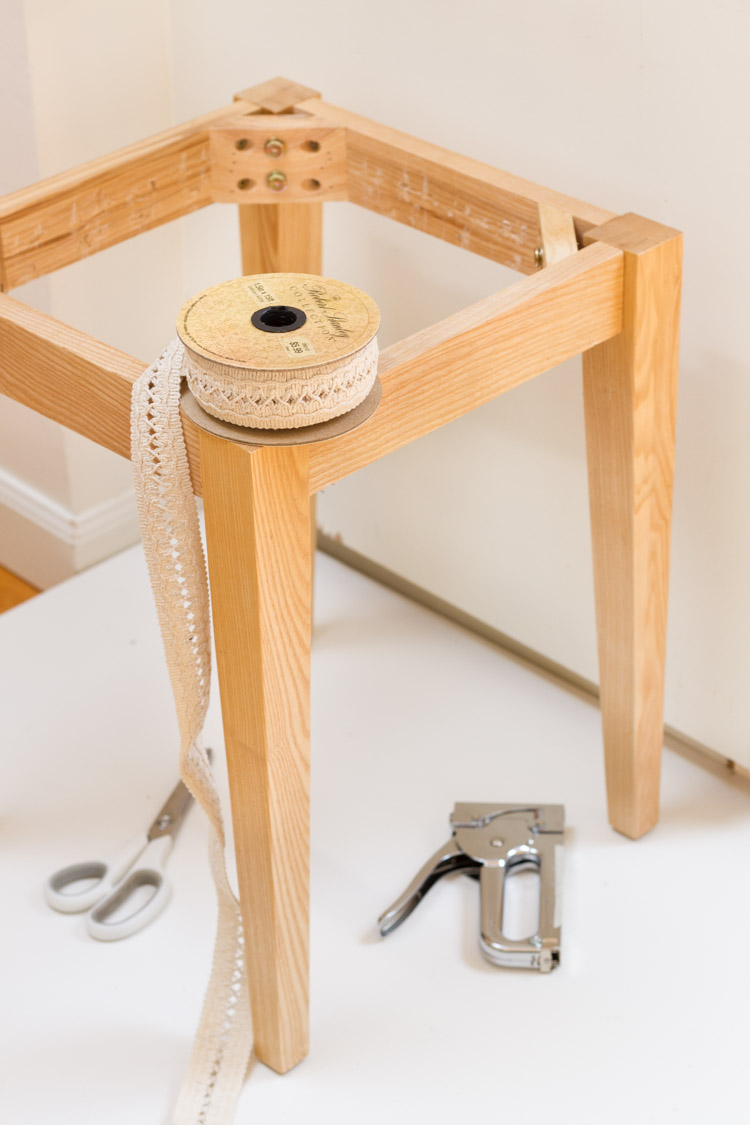 I used this table frame I found on clearance (it had a similar design and ideas with woven material, but I didn't like the color etc… Instead, I chose to personalize it myself. I was on the look out for something like this at the thrift store without luck. But I think you could find a table where the top could maybe be removed to achieve the same idea. I also picked up this braided ribbon (I used a couple spools), grabbed my scissors, furniture stapler and staples. I found some wrapping tape helps the process go a bit smoother along the way as well!
Here is how I pieced this easy project together…
First I measured out the ribbon to make sure I could get enough around the edges to staple. I needed 6 strips for going length wise and 6 more to go the opposite direction in order to weave them together.
Then I wrapped each one with tape so that they would staple easily and not fray later down the road.
Here you can see I spaced them one at a time and stapled as I went. I wrapped strips around the outside and stapled inside the frame. I only stapled the sides of one corner.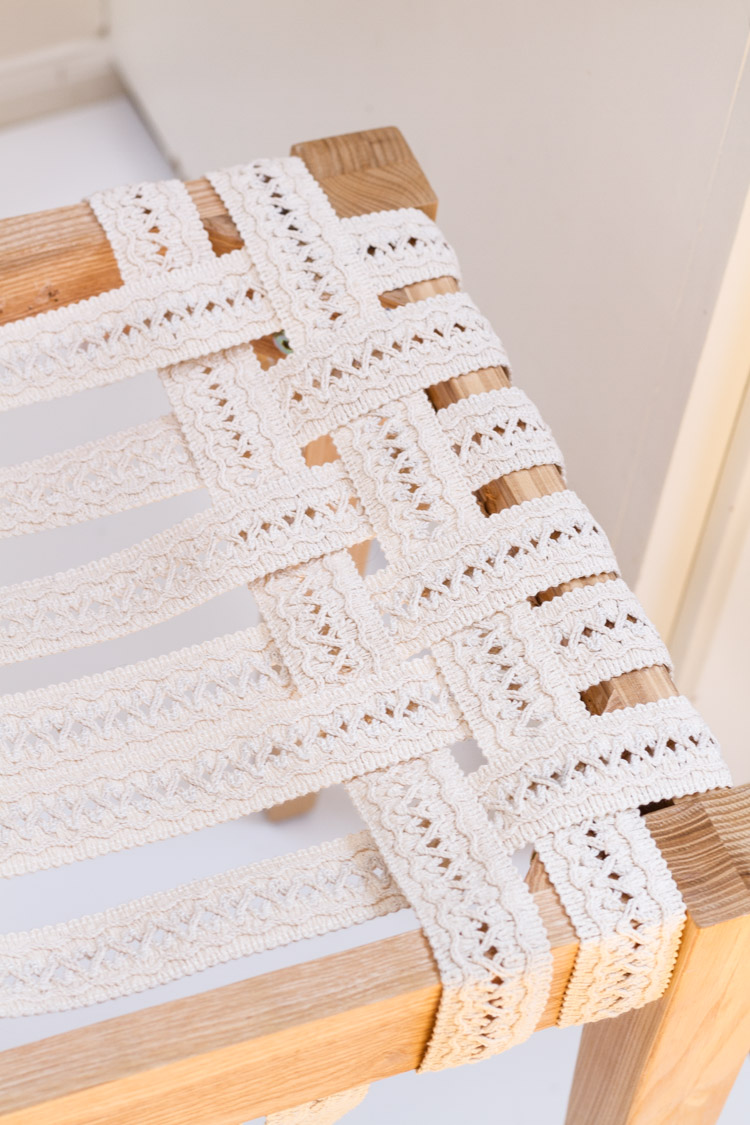 Now that the sides of one corner were secure, I laid them all out and began weaving process.
I used the tape to secure the opposite woven sides in place. This made it easier to staple once I flipped the table over again. I repeated the steps I started by slowly wrapping the loose strips around and stapling them inside.
Once I was done I was able to look at the finished project and was happy with this fun accessory!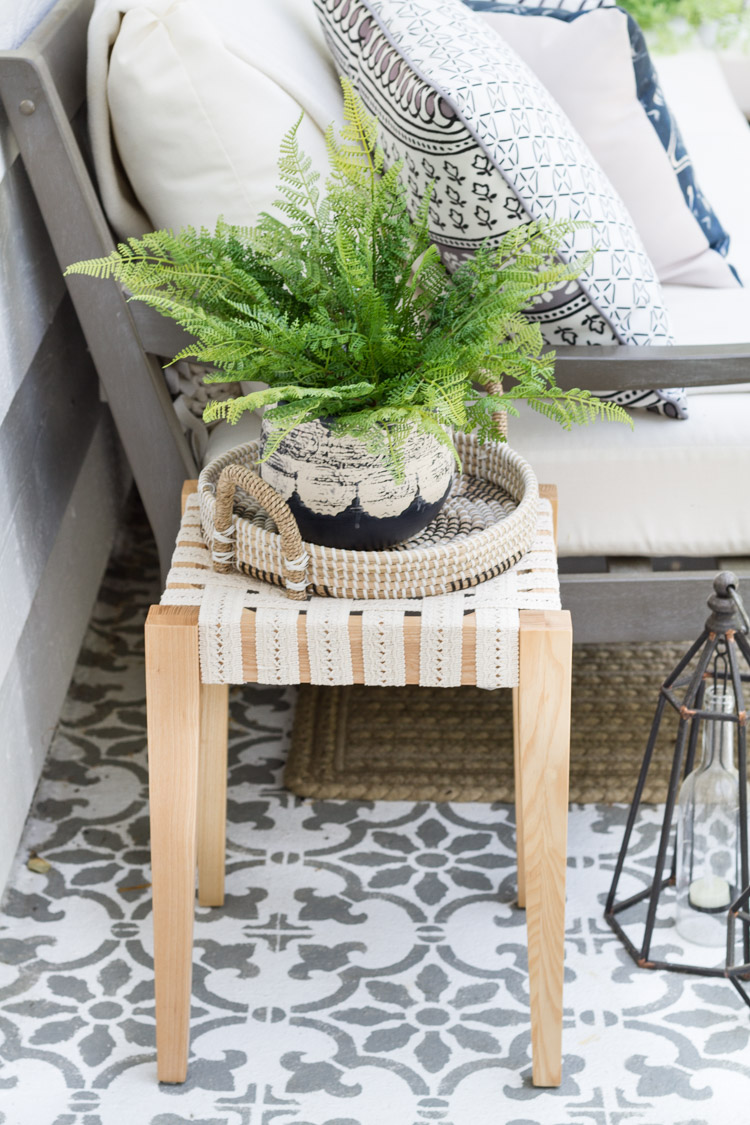 This will not work as something to sit on or hold heavy items as the ribbon isn't strong enough for that. But  a vase of flowers and lightweight accessories will do perfect…
I am really enjoying how it fits into this outdoor space of ours.
I have a feeling it may find its way into our house from time to time too ;)…
Until then, it will hold all the pretty foliage of the season.
I hope this gives you some inspiration for the upcoming summer and thanks so much for stopping by friends!
Don't forget to visit the rest of these talented ladies below who are sharing so many lovely creative ideas!
The Happy Housie / Home Made Lovely / Taryn Whiteaker / Craftberry Bush
The DIY Mommy / Duke Manor Farm / Zevy Joy / Inspiration for Moms / Newly Woodwards
Satori Design for Living / Tidbits / Sincerely, Marie Designs / So Much Better with Age / Town and Country Living
Paint Me Pink / Finding Silver Pennies / Southern State of Mind / The House of Wood / Amber Tysl