Hello friends, I am happy to have you here as I share the rest of our home set up for fall as part of the Autumn's in the Air Fall Blog Tour, hosted by sweet Sheila at Masion de Cinq. Welcome to those of you coming to me from Kristen at Ella Claire… I just love everything Kristen does. Her fall tree she has set up is incredible, what a fun tradition for her family! You may have seen some of the spaces of our home already decorated, so today I wanted to show you some spots you may not have seen yet. And more importantly, some simple ways to use neutral fall decor inside and out of your home!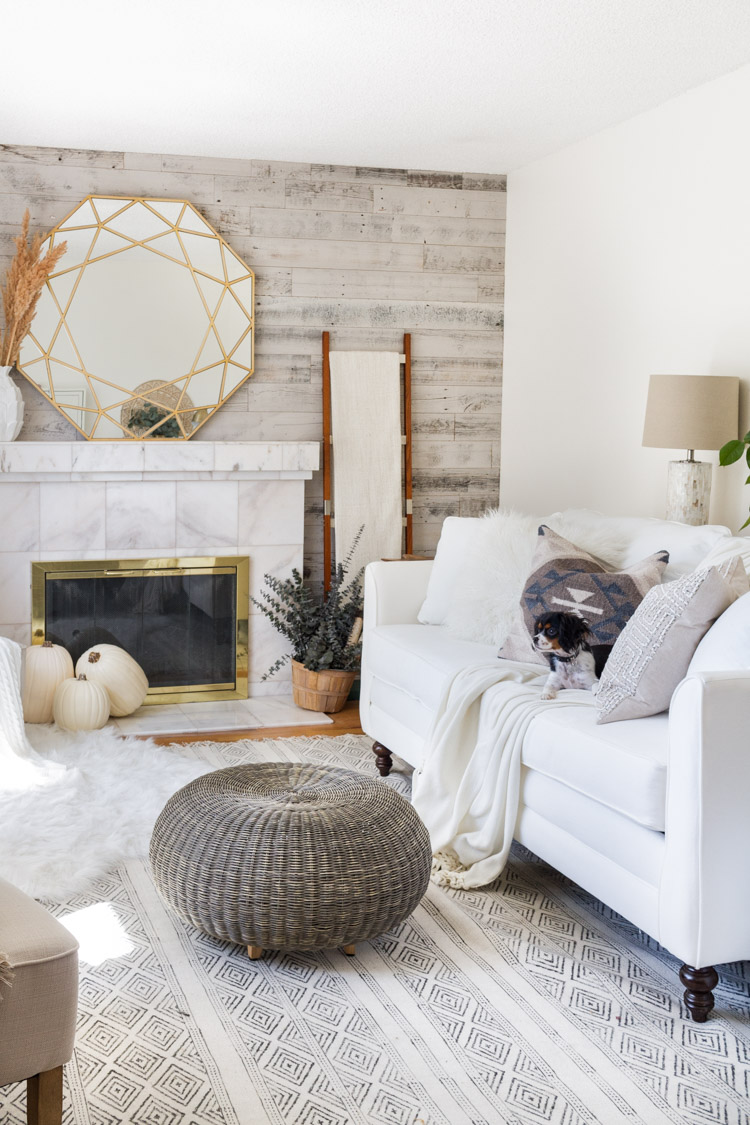 Here is our front room which I chose to keep as is for the most part. But I did switch out some summer throws for chunkier knits! This is such an easy way to make big impact with your decor throughout the seasons.
It's always a good idea to pull out pumpkins and wheat stalks! Again, a little goes a long way and says "autumn" all around.
Even though the leaves are turning, our weather has been warm and calm as of late. This California girl has loved it, lol! You can see the sun streaming in through our front room here.
I love how simple earthy colors compliment and pair perfectly with the cooler grays throughout this room. Much like autumn itself – warm colored trees, cool skies…
Across the room is our sleeper sofa ready for visiting or guests when they come to stay.
I had more hanging amaranth (from the rest of our fall home here and here) so I displayed it above.
Now we'll head out to our patio which received some fall updates too!
The tips listed above remain the true here in this space. Switching out thin knits for chunkier ones, having a pumpkin here or there, and now fall greenery can used in place of wheat stalks. 
I can't decide which are my favorite, white pumpkins or all the pretty colorful ones… I think it may be a tie ;).
Simple, neutral and ready for an afternoon with a good book on a crisp autumn day.
And theres another little pumpkin! Seriously you all, pumpkins do the work for you. Just sprinkle them throughout and thats all you need. P.S. Have you seen a plant like this before? It's a silver dollar succulent plant! It looks just like silver dollar eucalyptus, but lasts longer with little watering… you know how I feel about eucalyptus… If you don't yet, you will see I use it everywhere ;)!
Tables are simply set with mugs and soup bowls. Another fall favorite and a wonderful way to entertain.
Incorporate ambient lighting with lanterns, candlesticks or twinkle lights.
And while the days of autumn are magnificent and fresh…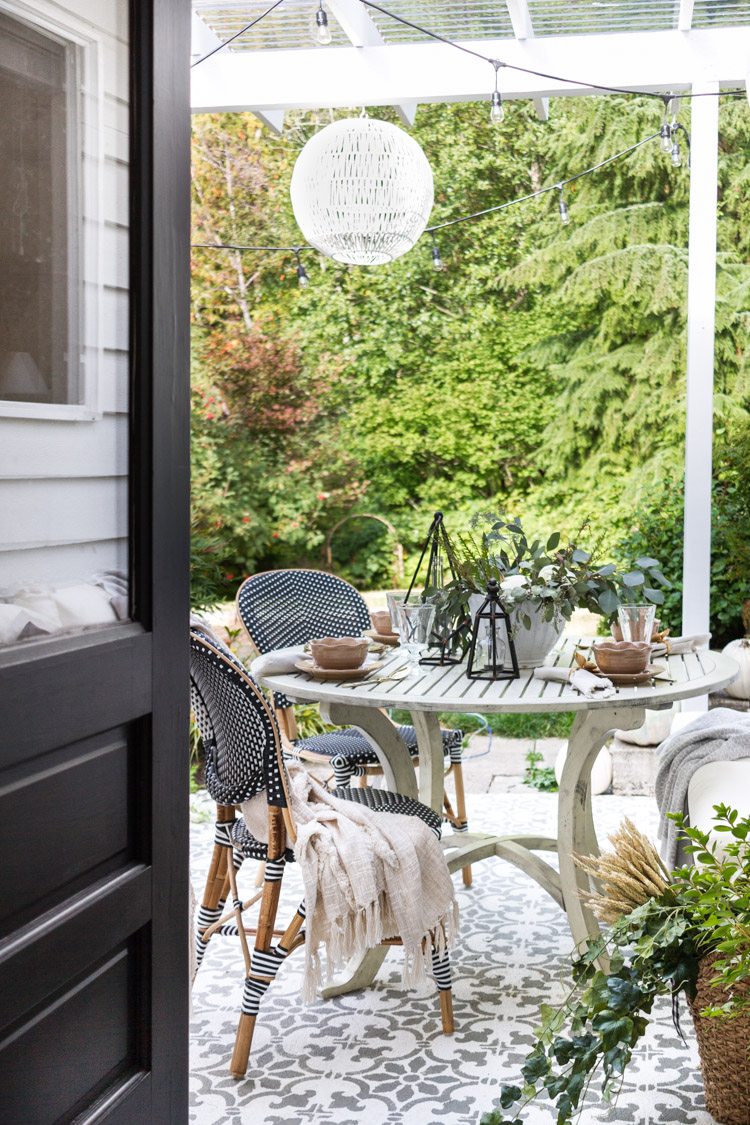 The anticipation of autumn nights is on the horizon…
When coffee cups are filled with hot cocoa and special drinks.
Flickering lights fill the air and blankets get wrapped up all around.
This time of year is magical and increasingly so as Christmas nears.
In closing, I couldn't resist taking the opportunity to share our pop up ready for those fall camping trips (I'm not sure how many we will actually get away to, but it was fun to dream it up).
Furs, jute and plaid for days. My kind of camper when the weather cools down and most of your time really would be spent inside this little vacation on wheels. You can see the entire space here.
I hope you enjoyed each of these fall inspired spaces! Don't forget to visit my friend Becca at Adventures in Decorating who is the next stop. I have the entire tour listed for you to enjoy!
Thursday's Posts
Designthusiasm | Sand & Sisal | Savvy Southern Style | Julie Blanner | Edith and Evelyn Vintage | Maison de Cinq | Shabbyfufu | Little Vintage Nest
Friday's Posts
A Blissful Nest | Nina Hendrick | Ella Claire Inspired | Zevy Joy | Adventures in Decorating | Styled with Lace | My Sweet Savannah | Lauren McBride