This is an old family recipe for Grandma's peppermint fudge recipe that you must try!
Hello there sweet friends and happy Monday! I am joining Kristen from Ella Claire again this week for another round of Tastes of the Season recipe series. This time it is all about sweet treats at Christmas and mine is an all time favorite: Grandma's peppermint fudge recipe. This recipe belonged to my darling grandma and I am delighted to share it with you. Hers is really made without the peppermint, but I couldn't resist adding it!
As always, due to our dietary needs around here, I have adjusted this recipe to be a dairy/gluten free version but will add how to make it original as well. Here are the ingredients you will need for this easy recipe down below!
*Please note, depending on  the severity of allergies it is always important to check ingredients. Some of the food below may contain traces of dairy or gluten.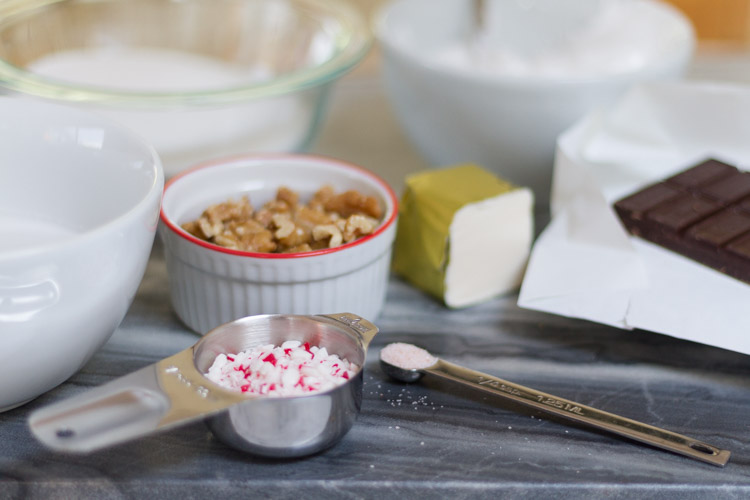 7 ou. Marshmallow Cream
1 1/2 cups of sugar
2/3 cup of coconut cream (or condensed milk for the original version)
1/4 cup dairy free butter (dairy butter for the original)
1/4 tsp. salt
12 ou. of dairy free chocolate chips or bars (you can use any type of chocolate for the original version too)
1 tsp. vanilla
Toppings of your choice: 1/2 cup nuts or sprinkled crushed candy canes, etc…
Here is how you will whip up this sweet treat! So so easy…
Grease an 8 x 8 inch glass dish (although I used a smaller size because I wanted the fudge to be thicker). Combine the marshmallow cream, sugar, the coconut cream, df butter and salt into a sauce pan.  Bring to a full boil stirring constantly over moderate heat.
Remove the mixture from the heat. Add the chocolate and stir in until melted. At this point, when everything is all combined you could throw in the nuts.
Or you can layer the fudge in your greased pan and sprinkle toppings atop.
You will want to let this chocolate fudge cool and harden up before cutting or serving. With anything gluten or dairy free, I like to store things in the fridge.
There are so many fun ways that this dish can be enjoyed throughout every season of the year!
The best part is how easy this fudge is to make which makes it the best dish of all in my book, haha!
I hope you enjoyed and maybe you will try this out this Christmas season too…
Please don't forget to enjoy these delicious recipes down below by some of my talented friends… I need to try so many of them… I can't wait!
Nonna's Famous Toffee by Ella Claire | Peppermint Fudge by Zevy Joy | Donut Hole Tree by Love Grows Wild | Chocolate Covered Cherries by anderson + grant
Peppermint Truffles by Maison de Pax | Christmas Tree Gingerbread Cake by Inspired by Charm | Gingerbread Brownies by My Sweet Savannah | Dark Chocolate Pretzel Bark by Finding Home Farms
Peppermint Smores by Nest of Posies | Classic Peppermint Bark by Nina Hendrick Design Co. | Homemade Marshmallows by Boxwood Avenue