Pretty Clay Heart Napkin Holders!
How To Make Heart Shaped Napkin Holders With Clay!
I have got the easiest Valentine's Day DIY for you today! As I was putting together a tablescape for my latest blog post… I wanted something to wrap around my linen napkins, but nothing I had on hand fit the bill. So I came up with this fun way to use air dry craft clay to make heart shaped napkin holders! I've joined Ashley from Modern Glam, Janine from Happy Happy Nester and Leslie from My 100 Year Old Home to share some great Valentine's Day DIY's!
Here is what you will need to craft this little project up!
Air Dry Craft Clay
Rolling Pin
Butter Knife
Water (for smoothing out the clay)
Parchment Paper
And here is how you will mold the napkin holders into shape!
For starters, I grabbed about a chicken egg sized ball of clay. Random reference, but a golf ball is too small and a tennis ball is too big. So something in the middle haha! Then you will want to roll it into a tube shape as seen below.
Next, roll it out (on a nonstick surface like a silicone cookie sheet or plastic placemat) until you have a ribbon that reaches a bit past 8 inches… You want to leave some room to clean up and cut the edges.
I also tried the sides of the clay ribbon.
Now take the trimmed edges and meet them in the middle, making an upside down tear drop shape. Gently press the ends together. You can dip your finger in water and smooth out the pressed ends. Don't over water the clay, a little on your finger tip goes a long way!
I then brought the middle of the tear drop shape into the center, clamping it into a heart shape as I went.
Again, feel free to smooth this out with a little water if needed.
I placed all my finished hearts onto a cookie sheet with parchment paper to dry. Follow all the directions for drying on your clay packaging.
Once they are all dry and firm (you don't want to use them before they are solid) you can insert napkins and set your table!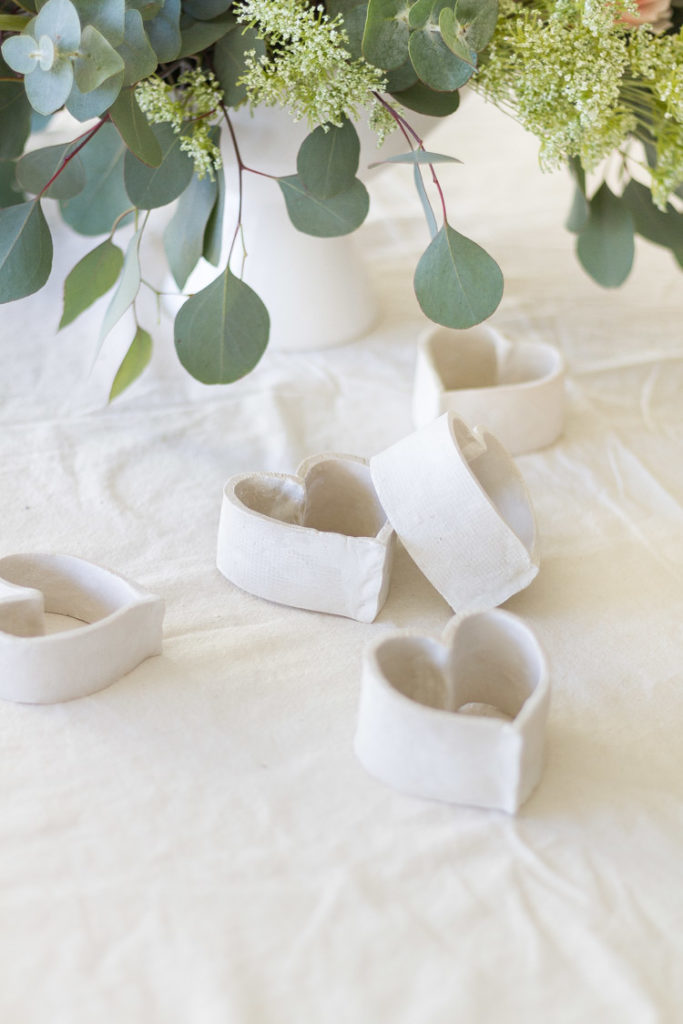 These are fragile in nature so be careful when handling them. They hold up fine, but you don't want to crush them either.
There are so many ways to enjoy these!
You can use a couple on each plate…
Or add a few sprinkled around the table…
These would even be darling used as a gift topper and tied on with ribbon!
I just love simple DIY's like this…
10 Best Valentine's Day Projects

Dollar Store Triple Heart Valentine's Day Wreath // Tatertots & Jello
Valentine's Day Heart Tree Tutorial // Happy Happy Nester
DIY Perfume Roller with Essential Oils // Most Lovely Things
Valentine's Day Decor Ideas // My 100 Year Old Home
Valentine's Day DIY: Clay Heart Napkin Holders // Zevy Joy

Heart Topiary DIY // Craftberry Bush
Pipe Cleaner Heart Garland // Modern Glam
Home Is Where The Heart Is FREE Printable // My Sweet Savannah
Polymer Clay Marbled Heart Ornaments // The DIY Mommy
Blooming Branches DIY // Finding Lovely