This post is sponsored by Lumber Liquidators.
Hello there friends! I have been waiting to share this post for quite some time now and I know that you have already seen some peeks here and there… But today I am excited to officially show you an update to our sunroom, which includes new CoreLuxe EVP floors from Lumber Liquidators.
We originally made the decision to change the floors because our hardwoods that were here before, were water damaged in spots, sun bleached and it was time to either sand down, repair or replace. The cost of refinishing or replacing was out of the question… So replacing was the winner!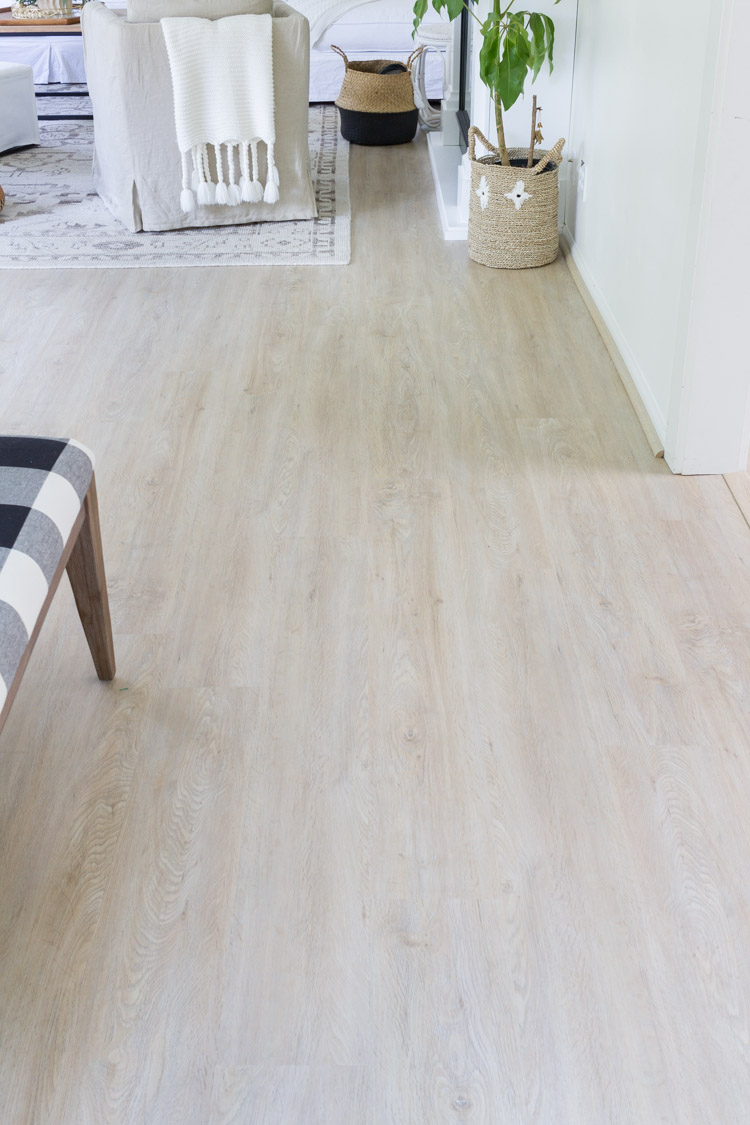 We chose to go with these Green Guard vinyl planks because they could be installed (floated) right on top of the original floors making it a DIY dream ;).  With the help of my hubby, brother-in-law and father-in-law we were able to install them ourselves (we are always so grateful for the generosity of their time and energy to make our design dreams come true).
The color you see is called Sandbridge Oak and we are loving it!
It is the perfect light neutral tone that I am so often drawn to and makes such a pretty addition to this room of ours.
And maybe the best thing of all is that they are waterproof! As you can see here above, we installed them in the kitchen as well. They couldn't be a better fit for floors that are constantly seeing wet dog feet, drips from the kitchen sink and many spills near the island from tipping almond milk, haha. We have adopted the saying around here…"no crying over spilled milk" as it happens on the regular!
To seal the deal, the top coat on these planks is good for protection from wear and tear (i.e. dents, scratches and more).
My hubby said to make sure and mention how comfortable they are to walk on as they truly are soft underfoot! Our old floors were very knotty and peeling so our socks would snag so easily. Now our socks are staying in tact and we aren't finding holes in the heels of each pair anymore!
And of course the quality is beautiful with varied textured grain to resemble real wood.
We see plenty of wet, dreary weather here and these floors are keeping things more insulated too. We chose a dense underlayment to provide proper support. If you can't tell yet, I am clearly a fan of these floors ;).
I can't finish without noting, that CoreLuxe Sandbridge Oak EVPs have the Green Guard and are Phthalate-safe, which was very important to me when choosing a new product that would find it's way into our home.
I am keeping the dining area rug free for now and just enjoying the look of the new floors for a while. Maybe I will add one later, but maybe not… Only time will tell ;).
A big thank you to Lumber Liquidators for providing our family with these new floors and sponsoring this post. I appreciate each of you taking the time to be interested in what's new around here and I hope that it is helpful or provides some inspiration!
Thanks so much for stopping by you all!