For your next holiday gathering try making this delicious easy vegan cranberry cream cheese loaf and pair it with some almond crackers!
Good morning all, hope you all had a good weekend! I am back with another cozy Fall recipe today and it is actually two simple recipes… I am joining Krista at The Happy Housie for this Seasonal Simplicity Series fun! I had a few requests on how to make the delicious almond crackers from my last recipe post, so I am excited to share how to make them with the easiest vegan cranberry cream cheese loaf…
Here is what you will need for the almond crackers:
1 and 1/3 cups of almond flour
1  egg or 1 flax egg (using 1 tbsp. flax seed with 3 tbs. water)
1 tsp salt
1 tbsp oil (I used almond oil)
And here is how you will make these easy crackers:
Set the oven to 350 degrees. Mix the dry ingredients with a whisk and then incorporate the wet ingredients…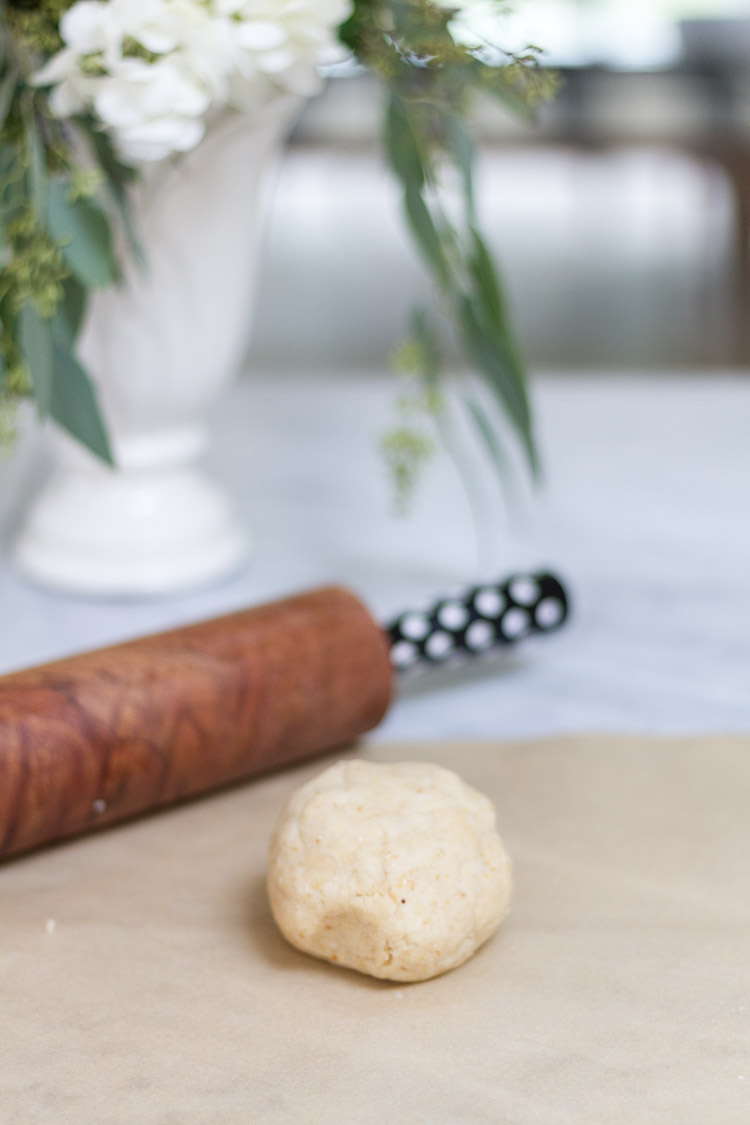 This should form a dough ball…
Flatten it in between two pieces of parchment paper and roll into about a 1/4 inch thickness. Remove the top parchment paper sheet.
Use a butter knife to cut the almond crackers into square shapes. And then use a toothpick or metal skewer to poke holes into each cracker. Transfer the bottom parchment paper sheet with the unbaked crackers to a cookie sheet. Put the crackers in the oven for approximately 10 minutes. You may need an additional 5 or so minutes but check on these until golden brown and mostly crispy. You can remove ones that have cooked enough and let the softer ones keep cooking if needed.
Here is what you will need for the Cream Cheese Loaf:
Cranberries
Sunflower seeds (or really any seed/nut of your choice)
A vegan cream cheese brick or square (I have found an amazing vegan cream cheese option from Miyokos. But of course you can actually use a true cream cheese!)
While your crackers bake, you will want to prepare your cheese loaf (if it is in a container, you will want to remove it before hand so that the cream cheese keeps its shape). Set out the cream cheese so it softens a bit.
Chop up the cranberries and sunflower seeds so that they are a bit more crumbly.
Here below you can see the cream cheese set out and the crumbled fruit/seed mixture. You will want to gently press the fruit/seed mixture onto the softened cheese. You can shape a bit as you go as well.
And there you have it! Such an easy delicious fall recipes to put together in no time!
Next I am going to show you how to assemble these two parts together!
I just took my vegan cheese loaf and placed it on a cutting board, but a plate would do fine too!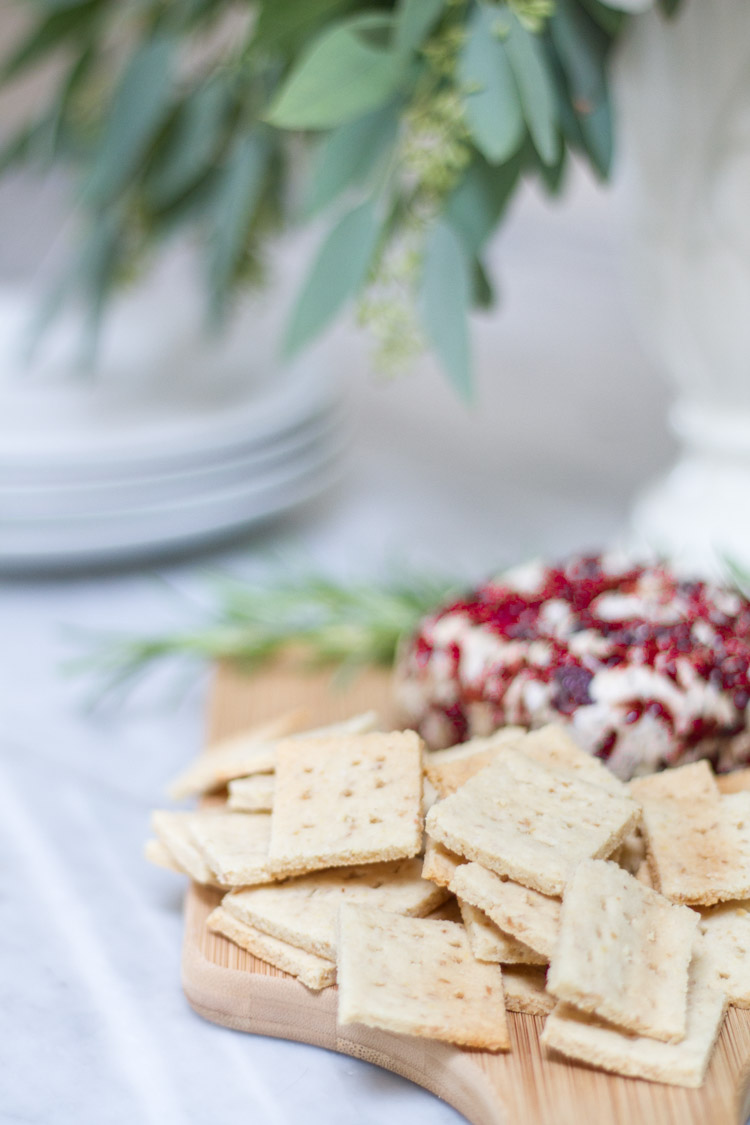 I laid out the crackers alongside the loaf and then used a few rosemary sprigs as a pretty accent!
I love recipes like this where you can take basic ingredients and make something delicious!
I hope you enjoyed and I do really hope you think this is as delicious as we do!
Don't forget to visit my sweet friends who are also sharing their fall recipes down below as well! Thanks so much for stopping by you all…
Today I'm excited to be joining a group of 25 other bloggers who are also sharing a fabulous fall recipe with you today! Hop around to see what other delicious ideas they've come up with…
Easiest Instant Pot Chicken Vegetable Bean Soup at The Happy Housie
Zuppa Toscana Soup at Somewhat Simple
Butternut Squash and Quinoa Chili at Town and Country Living
Hearty Sausage Kale Soup at In My Own Style
Gluten Free Gnocchi with Butternut Squash, Sausage and Arugula at Willow Street Interiors
Easy Vegan Cranberry Cream Cheese Loaf and Almond Crackers at Zevy Joy
Pumpkin Sugar Cookies at Jenna Kate at Home
Mini Lemon Cranberry Cakes with Ginger Drizzle at Sincerely Marie, Designs
Absolutely the Best Homemade Peach Coffee Cake at Home Made Lovely
Gluten Free Pumpkin Bread at Taryn Whiteaker Designs
Whole Wheat Pumpkin Crepes at TIDBITS Cami
Chocolate Pumpkin Cream Cheese Swirl Bars at Clean and Scentsible
Roasted Pumpkin Seeds at Finding Silver Pennies
Pumpkin Pie French Toast Bake at A Pretty Life
Salted Caramel Pumpkin Spice Latte at Hallstrom Home
Apple Cider Margarita at Rooms FOR Rent
Instant Pot Caramel Apple Cheesecake at TIDBITS Marci
Mini Pumpkin Spice Cupcakes with Maple Cream Cheese Frosting at Satori Design for Living
Easiest Cinnamon Sugar Apple Cake at Inspiration for Moms
Whitney's Pumpkin Muffins at Amber Tysl
Cream Cheese Caramel Apple Dip at The Turquoise Home
Old Fashioned Apple Crisp at Modern Glam
Pumpkin Pie and Cheesecake Popsicles at Paint Me Pink
Mini Apple Tart with Custard at Happy Happy Nester
Pumpkin Cream Puffs at Life is a Party
Pumpkin Spice Cupcakes with Cinnamon Cream Cheese Frosting at Nina Hendrick Design Co.