You have heard me talk about decorating when you have kids/pets, using neutral decor and much more when it comes to your home… Today I wanted to talk about making decisions regarding your everyday decor and how to make it work for you. We have been on the search for a larger rug, one that fit the size of our narrow family room, but more importantly, the everyday needs of our family.  Rugs Direct provided us with a Safavieh Natura Rug and I thought it would be fun to share how I chose this "just right" rug for us; more so, how it applies in general for choosing rugs or really any decor in your home.
When I started looking through my options I really made sure to think about how it would work for us. Of course, white, cream or something in neutral tone were at the top of my list… As I sorted through pretty rug after pretty rug, I kept reminding myself of the things we needed to consider!
As you have probably seen, we have a sweet animal that loves to lounge around here – Wyatt our pup. So when thinking about a rug I realized that it would get a stray dog hair here or there. Because of that, I was set on finding a rug with texture; texture is really great at hiding fuzz and fur balls ;)…
We also have baskets and baskets of cars or toys that run along the floor day after day. Therefore, this floor of ours would be getting some regular use and I knew that I needed something durable and somewhat soft for little feet and hands to spend lots of time on.
As I mentioned before the size of our room was important to consider. You don't often see this angle of our family room as this is where we have our T.V. set up. The entire space is very long and narrow with two occasional chairs that sit out. I have had it set in my mind that when the time was right I would love to find an area rug that would allow all the furniture to sit atop. While this was not necessary, it was something I really liked the idea of.
Next, I had to think about the traction this rug would be getting. With the sunroom set up and the french doors opening feet away from the rug, I wanted a color that would conceal the occasional dirt or dust brought in.
And of course style was important. When I say this, I mean that finding a rug within my taste or aesthetic was pertinet. Something that fit the feel of our home and would be an investment in time to come. Not something that would change quickly with the trends or my love to move things around. In this case, having a neutral rug made it a perfect choice for all of the above.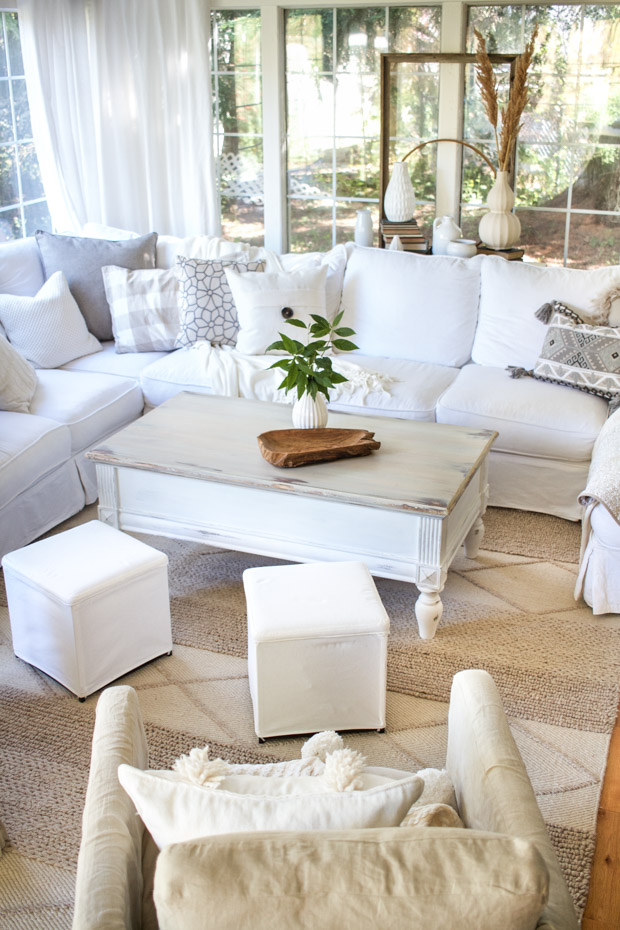 We happily made our choice on this Safavieh Natura Rug you see pictured here. It fit all the needs I outlined above and is just what we were looking for. It is soft, textured, neutral and the right size. We are really enjoying it as it has been long awaited and has made for one cozy floor!
Even though I shared about our decision process for choosing a rug, all this criteria can fit when making any design or big home decor decision.  You can think through this mental checklist of:
Do you own pets?
What kind of use will the space be getting and by who (i.e. kiddos, workspace, etc…)?
How big is your room, what is the size and the dimensions of your space?
Where is this space located in your home and will it be receiving lots of traction?
Will it fit with the style of your home and be something that should last over time?
While this is just a reference and how I make decisions when it comes to everyday decor, it is not the final say. And sometimes you make work what you already have and that is just right too. I hope this may come of use to you whatever stage of "home" you are in!
Safavieh Natura Rug from Rugs Direct provided us this rug but all opinions are 100% my own and I am so grateful to share them with each of you. In addition, Rugs Direct is offering this 15% off code to readers here.