Our youngest is about to have a birthday; it was time to take her nursery and give the room an update.  I thought very long about how we would change the room and wanted to make sure that it incorporated her sweet and bubbly personality.
I first learned of Beddy's Beds from my sweet and talented friend Ashley from House of Five. So you can imagine, I was thrilled at the opportunity to have our very own Beddy's Bed zip up comforter in the Chic White Set as a starting point for the design and style of her room.  Let me start off by saying that this bedding is amazing.  I wish I could put one of these on every mattress in our house!
It slips over the bed like a fitted sheet and the comforter is sewn onto it, allowing bed making a breeze and beautiful all at the same time.  This couldn't be a better fit for children and I would seriously use one on ours too.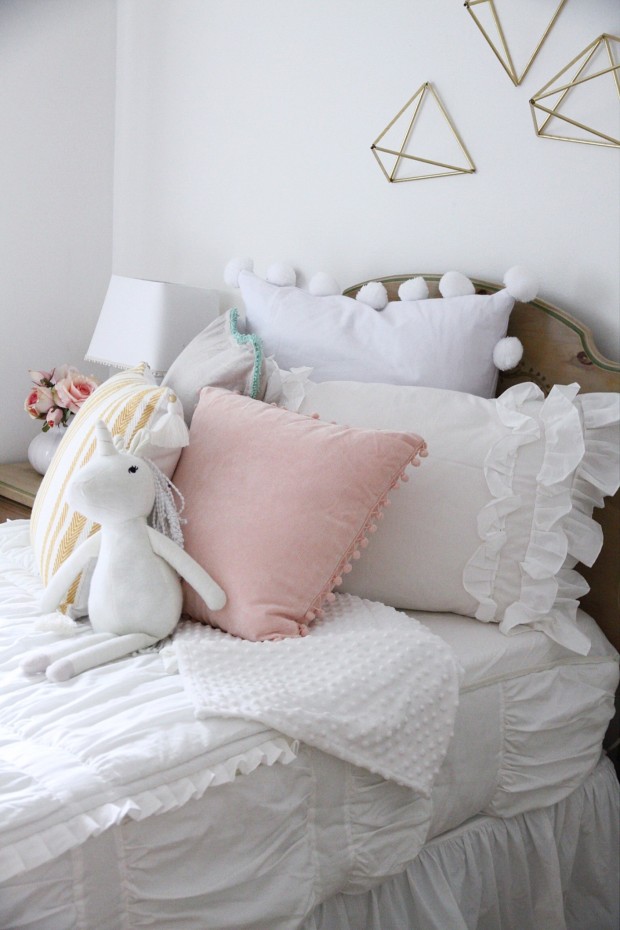 The inside sheet is soft while the design is ruffled and pretty.
I was certain I wanted her room to have lots of ruffles, poms, muted color tones and whimsical features.
There are many beautiful colors and designs available, but keeping with our neutral decor was an easy decision.
This way it would allow her to grow with her room over the years and this bedding will do the same.
The quality is exceptional along with the function.  Is it obvious how I feel about these bed linens! I can't wait to share some more of her new room with you later this week.  Thanks so much for taking the time to tour it and hope you have a wonderful week ahead!
(As I collaborated with Beddy's Beds, these opinions are 100% my own – I share brands/products that I truly do enjoy and love; it is my hope that you always trust that.)