Hello friends and welcome today as I have the total delight to share our home as Christmas finds its way here. I am joining Kristen (our host) from Ella Claire and so many wonderful friends as well for the Seasons of Home Holiday Decor Series. Today is all about Christmas trees/family rooms and this just happens to be my favorite room to share during the season! It is the one we spend the most time in and is the most special to us during Christmas…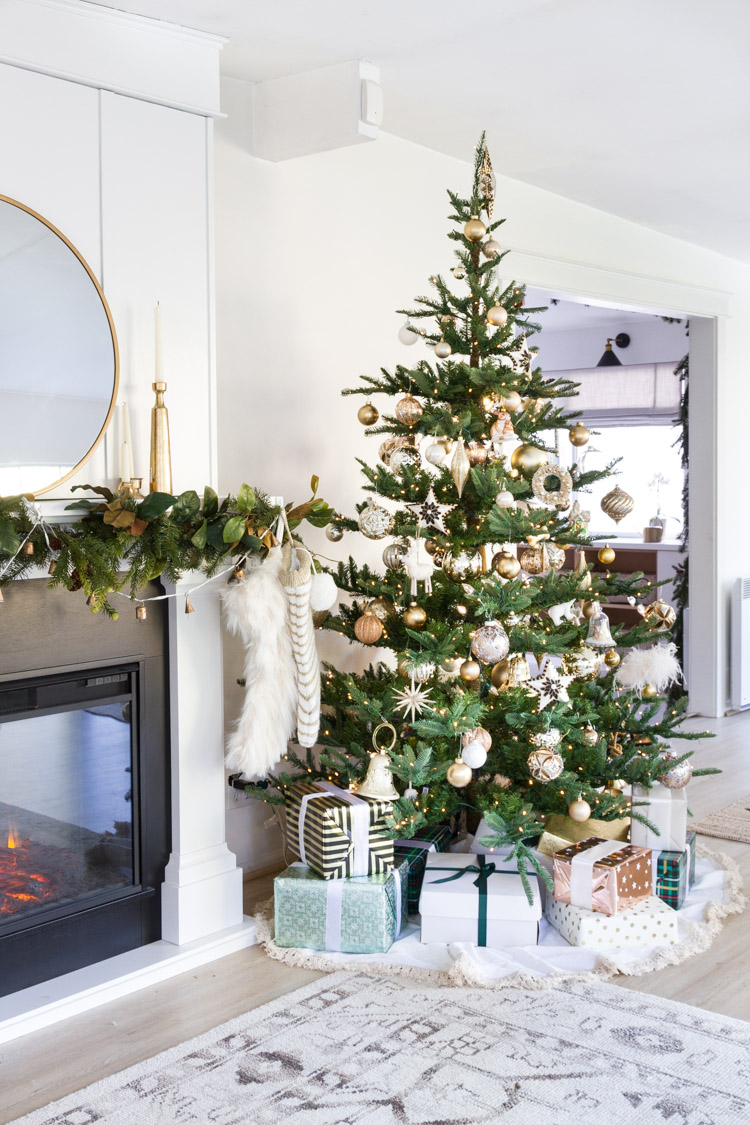 Last season I made a decision that this year I would do things more simply. And yes while I may have had a few trees to decorate ;), I did stick to my plan, haha. The most extravagant part of the decor may be the amount of ornaments I used. I think I may have put up every metallic ornament I owned (with some new ones as well) this time. But we are really enjoying it!
I took a couple strands of faux garland and hung them on the mantel with a special string of bells my mom bought me this year when we went on a local vacation as a family.
To make things a bit more glitzy, I added extra plastic c-9 lights to my trees. I like to mix and match everything when it comes to decor anytime of year ;)…
Along with simplicity, I really wanted my kids to be a bigger part of the process with the tree too. They are always so sweet and love whatever we put up, but my mama heart was craving special, meaningful ornaments they could look forward to each year. I have those memories in my youth and I want that for my kids too. And while we do have some that were given to us in the past, I wanted to personally hand pick some out with them in mind. So I stuck with the natural/metallic theme but went with some whimsy when picking things out!
We just saw the Velveteen Rabbit, so of course I grabbed this one for us to enjoy. I found gold dinosaurs, silver candy canes, glitter elephants and more!
When they saw what we had to work with, their eyes lit up with joy. They immediately started playing with the ornaments and making memories with them. I can still remember sitting by the fire as a little girl and doing the same thing with our family ornaments. Please note, I think there is not a right or wrong way to decorate and all trees are so beautiful, this was just the direction I wanted to go.
Of course, stockings are hung by the fire…
With more sweet details of gold ;)…
I think Wesley and Wyatt are enjoying themselves just fine too ;).
Usually our Christmas tree sits here by our french doors. But this year I chose to do two trees in the sunroom (one seen today and one in the dining room that I will be sharing next week). In its place, I hung a couple magnolia wreaths with bells.
Again, I am loving the plain statement they make…
Green was my go to color this Christmas, so I threw a couple deep emerald cushions on the sofa.
And basic greens atop a layering of metal trays (everything ties together with those metals).
I even kept the rich auburn pillows I had from fall, as I wasn't ready to part with them for the year quite yet.
It really is beginning to fell a lot like Christmas…
And this right here is a scene that makes my heart smile… Fire going, Christmas bingo, sparkly tree and most of all my babes. Tis the season you all. I hope yours is beautiful and please make sure to go visit these amazing friends down below. I can't express more to you, my gratitude for the opportunity to share with you. It is something I will never stop pinching myself at the chance to do. In this season of thanks, I am truly thankful for you all.
Ella Claire | Nina Hendrick Design Co. | Zevy Joy | Beneath My Heart
Boxwood Avenue | Craftberry Bush | Inspired by Charm | Home Stories A to Z
French Country Cottage | Rooms for Rent | City Farmhouse | Nesting with Grace
Thistlewood Farms | Jennifer Rizzo | Dear Lillie | Love Grows Wild