This post is sponsored by Tuesday Morning.
Alright friends, this last week the sun has been out non-stop… Which means it is time to open up the patio (or outdoor spaces) and start enjoying them! I had the opportunity to partner with my friends at Tuesday Morning and spruce up our backyard patio just in time for Family Movie night! This little outdoor space of ours is a little neglected and forgotten during those cold & dark winter months, so you can imagine how fun it is to freshen things up out there when the time comes! Here below you can see the "before" where it is just bare and empty (looking lonely ;)…
And here is what it looks "after"…!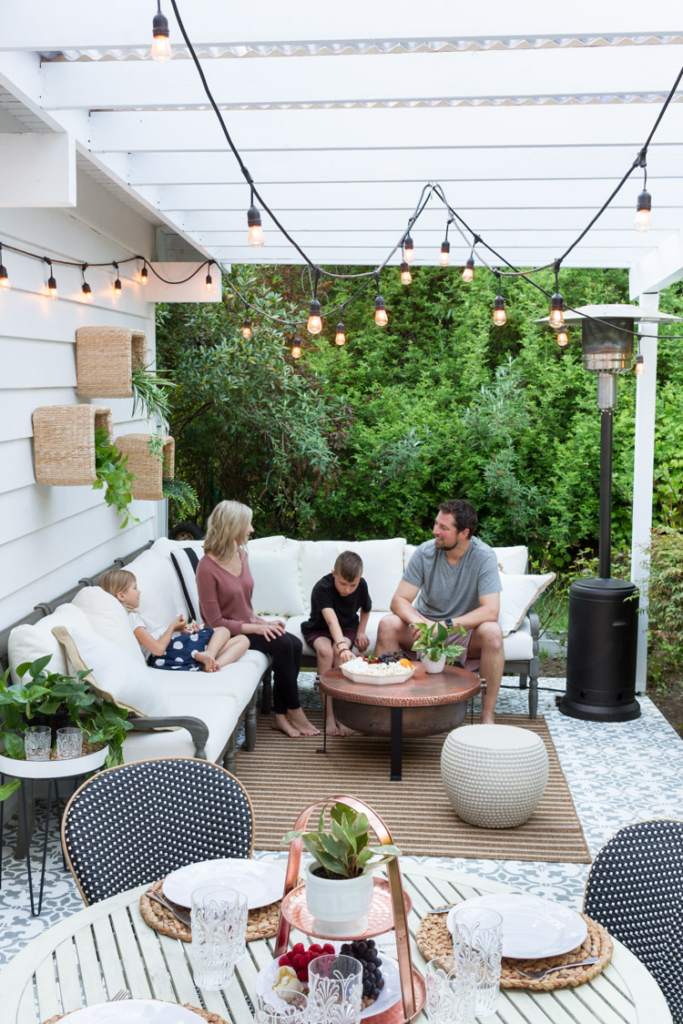 We spend a lot of time out here as it is an extension to our home. In fact, we had a tv in our bedroom that we recently chose to take out and utilize it here instead. So now we have started to make this an area for our family bbq/movie nights.
This space just needed some unique pieces and accessory updates before using. Shopping at Tuesday Morning made it easy to pick out some stylish things for gathering outside!
I wanted to keep things simple and neutral in nature… Tuesday Morning had this copper tiered tray! The size was perfect for making a centerpiece that holds both greenery and food.
During the spring/summer season I like to keep things easy with using plants as centerpieces. Trays like this are perfect for just that. Plus it pulls the other copper accents throughout.
They had great entertaining platters and a variety of choices. I chose this melamine divided dish. For movie night, we like to have snacks and dessert after we enjoy our hotdogs/burgers.
That means popcorn, fruit, and cheese with honey! Oh and don't forget the marshmallows, haha.
Like the tray, I found some elegant melamine dishes as well. I kid you not, I am amazed at how real they look (like a porcelain dish). But the best part is that all the melamine is ideal for patio entertaining and not as fragile as regular dishes! I also grabbed a set of flatware to use for outdoor entertaining. Tuesday Morning had all the necessities I had on my list to make this patio ready and infused with my personal style!
A patio refresh wouldn't be complete without some new pillows, would it?! ;). I grabbed 4 pillows that would coordinate well with the neutrals going on out here. I found that black and stripe outdoor seat cushion and I couldn't resist using it as a throw pillow instead! To complete an easy refresh, I picked out a new durable rug and a hairpin side table/plant stand.
Now with this refresh, we can gather in this space for lots more fun and memories to come!
I hope you enjoyed friends! Thanks so much for joining me today and I hope you left with some inspiration for refreshing spaces and gatherings! And maybe you will head over to see what special finds you come across at your local Tuesday Morning as well!?
Thank you to Tuesday Morning for sponsoring this post.