Hello and welcome back friends.  I hope that your Thanksgiving was wonderful.  During the fall I showed you how to style your decorative trays and baskets for the season. Today I wanted to share some fun ways to style your baskets for winter.  I am using my Painted Fox Treasures, Green Metal Garden Basket that I loved so much throughout the fall.  You could also use these ideas for trays of all sizes.
Let's talk about presents.  This is one of the simplest ways to tuck gifts under the tree and adds such a fun twist on how you display them.
(The Number 7 pillow is from Painted Fox Treasures and the affiliate link can be found in my sidebar).
Pinecones are one of my favorites, as you may have already read through my last blog post on, Winter Branches and Stems.  They are inexpensive, vary in size and go with any style of Christmas decor.
Ornaments are another fun and easy way to fill up your baskets.  They bring lots of texture and shine to focus and they brighten up any space.
Decorating with what you have around is one of the best ways to do it.  Just like these different glass bottles.  I threw in a small bunch of branches and enjoy the simplicity of it all.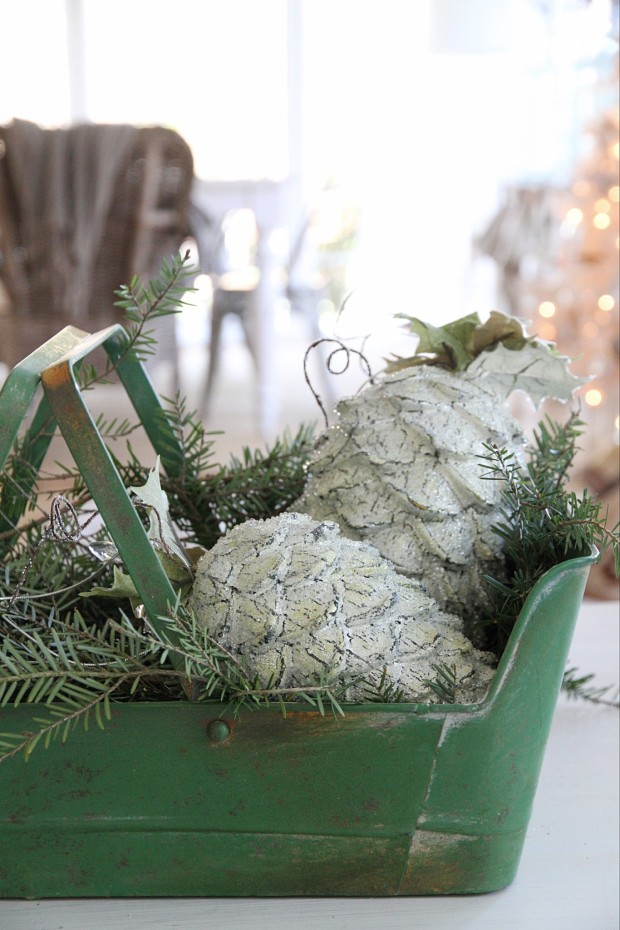 Lastly, decorative pieces such as these large shimmery pinecones make a pretty statement when tucked in with live greens from the outdoors.  Little trees and large stars would have the same effect.
I hope this gives you some helpful ideas on how to change your decor throughout the seasons with little effort.  Thank you so much for stopping by, I appreciate you being here!