Today I am sharing with you some cozy spaces in my house because autumn is in the air!
Good Morning and welcome to the Autumn's in the Air Fall Blog tour with Sheila at Maison de Cinq and some of my sweet friends! If you are here visiting from Janet over at Shabbyfufu, I am thrilled to have you here! Janet is incredibly talented and I love to see what goodness she shares throughout the seasons. Today I am sharing a couple of fall decorated spaces that you have not seen yet in our home, our living room and our bedroom as they are all cozy for the fall.
This is the room that you enter when you come into our home and it serves as our formal living space, guest room and even an office! So it is defiantly multipurpose! I wanted to use this room to show how you can take some versatile pieces to get your spaces ready for the fall season. Those pieces will also be easily incorporated into future seasons as well!
I already shared some of this Instagram stories, but wanted to follow up here too. I bought three cost effective items for this room as I wanted to stay within a budget. The first being a set of striped dishtowels that had all the colors I was looking for as I got the room ready. I simply sewed in a zipper, closed off the edges and ended up with a tasseled new addition! This pillow had the natural autumn tones I wanted, but will get used throughout the entire year.
The second item I got was  a gold mirrored tray. Trays are great because you can incorporate metals and this gold was the perfect way to bring some more warmth to the room. Plus it will perfect for the Christmas season too!
Lastly, I bought this faux eucalyptus that is wonderful for the autumn, but great winter, spring, summer and fall!
Then I already had a couple mini pumpkins that I recycled and sprinkled here and there to make things subtly festive.
And of course I included a couple shorter candlesticks to give the ambience we all crave during the fall (although with candlesticks, I would be very careful that they are not a fire hazard or left alone to burn. These are a bit taller than I would recommend).
I also kept some of my regular decor (plants, pillows and such) as I still am enjoying them without having to change it all.
And here is a peek at our bedroom…
Funny enough, I actually took away from some of the decor here and ended up with less in our room for this season. I was wanting simplicity and more than anything I wanted ambience to steal the show.
Because when I think of fall, I think of warm glowing lights, slippers, blankets and everything cozy!
I hope you enjoyed and that this post gives you some inspiration as you can see how simple decorating for the fall can be!
Don't forget to head over and visit Kristen at Ella Claire… She is the sweetest and has gorgeous taste each and every season!
Here is the rest of the tour for you to enjoy as well! Thanks so much for stopping by!
TODAY'S POSTS: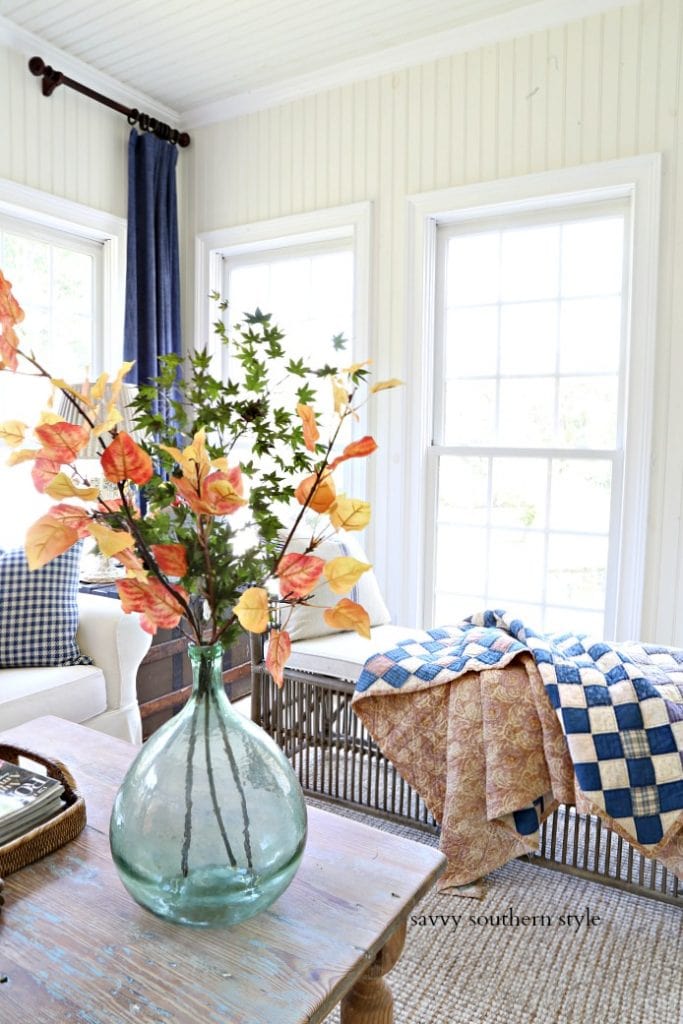 Savvy Southern Style
Sand & Sisal
Shabbyfufu
Zevy Joy
Ella Claire
MONDAY'S POSTS
Savvy Southern Style | Sand & Sisal | Shabbyfufu | Zevy Joy | Ella Claire
TUESDAY'S POSTS:
Maison de Cinq | Designthusiasm | On Sutton Place | Edith & Evelyn Vintage | Life on Virginia Street | Styled with Lace