Ceiling Beams For An Updated Look!
*This post is Sponsored by Ornamental Moulding and Millwork.
Ceiling Beams To Transform The Look Of Your Home!
Hello again all! To say I am excited to be sharing this post with you is an understatement… We had the joy of working with Ornamental Molding and Millwork to put this together and with their help really transformed the feel of this sunroom! You know from visiting before that this sunroom serves as our family and dining room… I have said since we moved here nearly ten years ago, that this room was begging for beams… And now nearly ten years later, that is exactly what this sweet room got! You can scroll down to see the "after" ;), but before I share that, I wanted to quickly talk about how easy these pretty beams were to install!
As you can see, we laid out all the faux beams and began to pair them up because our ceiling would need a total of two combined beams to cover the surface. Next, Tyler began to space and measure where the beams would go. We spaced them out 5 feet apart. In order to make our spacing accurate, we used a chalk line to keep our lines nice and straight.
Then we took the provided mounting boards that come with each faux beam set and screwed them onto (with provided hardware) the chalk lines that we had measured out. I want to make sure and mention that these faux beams are lightweight and are made from real wood which was a major bonus for me. Like I said this system is so simple and all ready to go!
Once the mounting plates were in place, we put the faux beam shells on top and screwed them into place!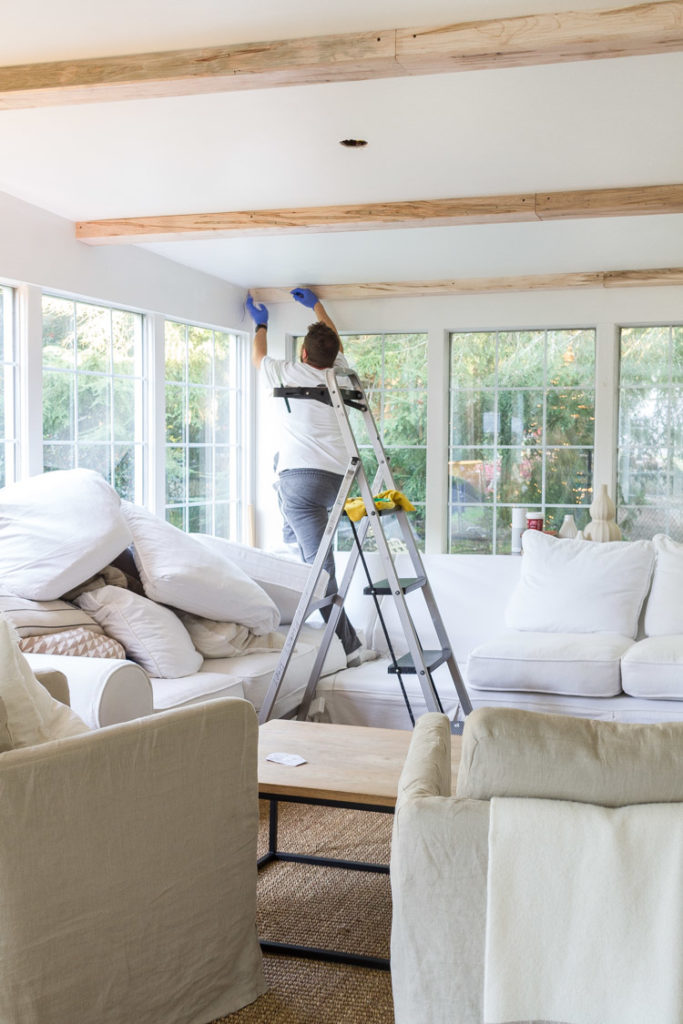 Ornamental Molding does offer decorative metal brackets that you can purchase to hide the seams when you are combining more than one beam. We chose to forgo the brackets for this room and Tyler filled the seams with wood filler.
Here is a close up of these pretty beams… We chose the Ornamental 3-in x 5-in x 8-ft Maple Faux Beams. And the finish is beautiful!!
Now you can see how this all looks together! We couldn't be happier with how it all turned out! I shared our Christmas tree on Instagram already, but you are getting a peek at it here too now… But stay tuned, because this room is getting decked out fully for Christmas in the next couple weeks!
Tyler, the kids and I keep saying we can't get over how these beams changed the room. How they make it feel bigger yet cozy all at the same time.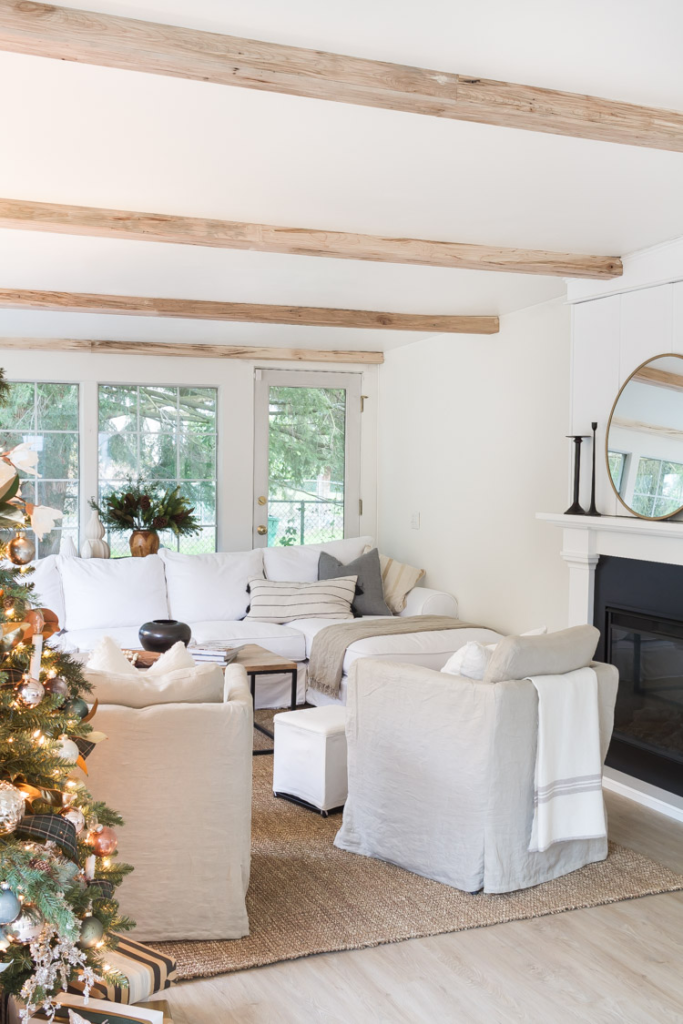 Beams are such a wonderful way to add interest to a room and mixing those wood and white/neutral tones is my "decorating" love language!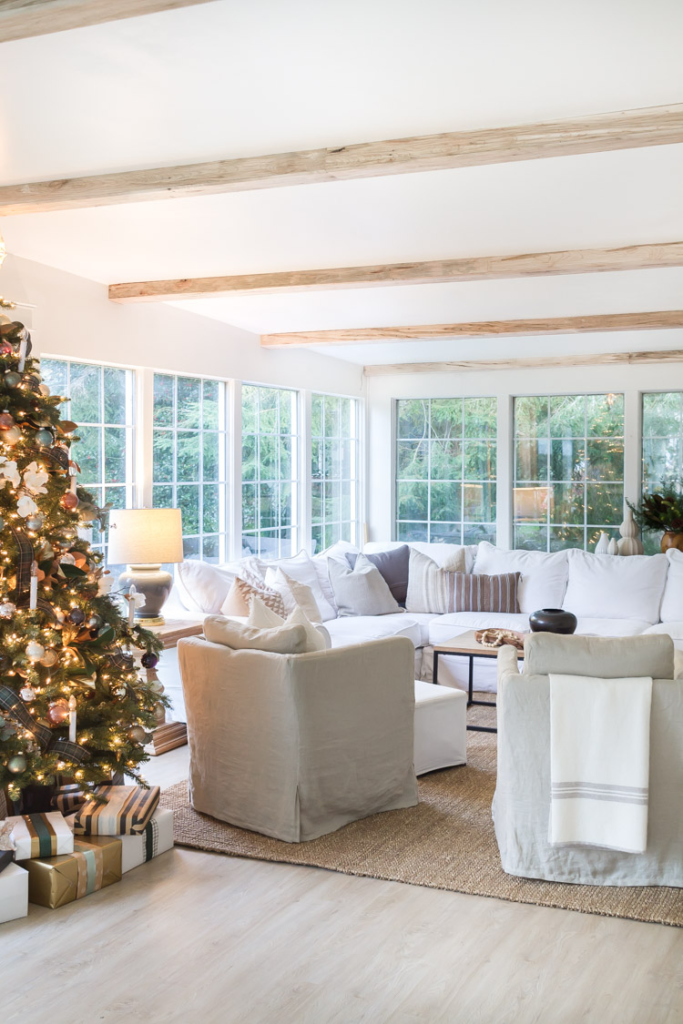 One day we will work on trimming out the windows and do some more finish work, but for now this special room is exactly where it should be and I am so grateful…
What is so neat about these beams is that they can be used in many different configurations and spaces in your home. Anything from kitchens, living rooms, bathrooms and dining rooms (as seen here in our sunroom).
Anytime I work with a company that goes above and beyond with their customer service, I always like to make sure and share that with you all here too. And Ornamental Moulding and Millwork did just that! They were so helpful to Tyler and I with ordering and questions along the way. A huge thank you again to Ornamental Molding and Millwork for making this makeover possible!