A Neutrally Decorated Fall Dining Room!
How To Get Your Dining Room Ready For Fall!
How did last week go so fast and now it feels as through we are speeding through Fall, yet Fall actually hasn't arrived?! That is the fun to be had in the blogging world, you are always a step ahead! And that means this week is going to be filled with many more fall projects and inspiration… Today is all about Dining Rooms. Kristen at Ella Claire is hosting for her Seasons of Home Series and you will not want to miss all the pretty ideas down below.
And you may say, "here we go again…" when you hear me talk about simply decorating, lol. But it is true! This is the direction I am going and I am absolutely loving it. I have been taking load after load to donate and am cleaning house. I want each season to still feel like it reflects the season with less things and a little more intention. I am not saying there is a right or wrong, please hear me out. I just really am craving that for our home right now.
I am hoping with today's post you will see how you can take easy elements and create a space that feels decorated without a ton of effort or money.
For starters, to get our dining room ready for fall I wanted to have a clean slate. I got rid of the tree I had standing in the corner and moved it somewhere else.
I used some large dried grasses I had bought earlier in the season and filled a spray painted thrifted vase I had transformed to hold them all. These grasses will most likely move around, but I love them here for now.
Then I knew I wanted to create a clean/crisp dining setting that would still feel warm and inviting.
I used some varied patterned cloth napkins, white dishes and mostly everything I already had on hand.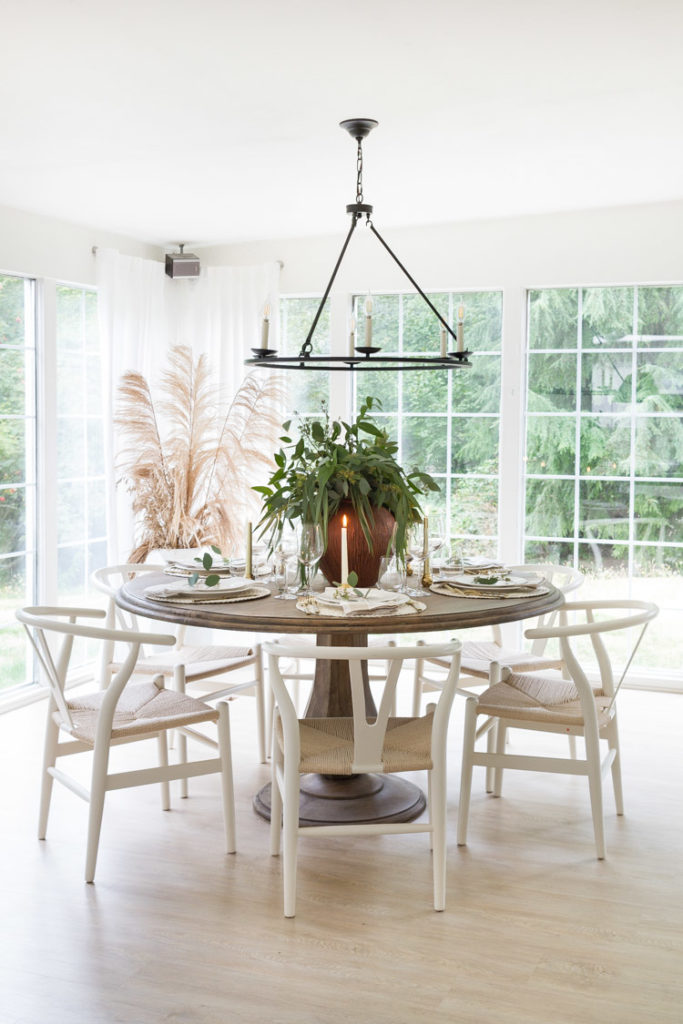 This giant pottery vase was on clearance at my local thrift store and I knew I had to grab it, for it would be the only bold statement I had in the room!
I filled it with an arrangement of inexpensive eucalyptus (my favorite) and then clipped smaller pieces to display on the plates.
I used our fancy wine glasses, but kept the theme neutral in color and tone.
My golden/shell flatware lay alongside each setting and added just a little bit of glitz.
You can see here that there really isn't anything too extravagant about the table and it would be very easy to duplicate!
I love candlelight this time of year.
I think it belongs on a table during the fall and winter months (spring and summer shouldn't be excluded though either haha).
But please take note! You need to be very careful when placing candlesticks on a crowded table. I had to make sure I strategically placed each of these away from anything that could catch fire.
And there you have it! A elegant and neutral dining room set with a simple table setting for loved ones to gather around. Thanks so much for visiting with me this week and make sure to stop back tomorrow as I have one more post to share for the week.
Here are my friend's lovely dining areas for you to enjoy!
Ella Claire & Co. | Dear Lillie | Zevy Joy | Rooms for Rent
Inspired by Charm | Craftberry Bush | Maison de Pax | Julie Blanner
The Handmade Farmhouse | French Country Cottage | My Sweet Savannah | Maison de Cinq