New Year's Eve Table Idea!
How To Put Together A Pretty New Year's Eve Table!
Friends can you believe there are only 6 more days till Christmas?! We are so excited over here and boy are we ready for the break. We are anxious for the celebrating, the memories and the fun. I have a couple posts left to share this week and as we wind down… I am sharing a festive little New Year's Eve spread. I am joining Bre at Rooms For Rent as well as my other friends who are sharing their ideas too!
This table was actually pretty simple to piece together. I used mostly what I had on hand, but did grab a couple extra things.
To make it all a little more bright and shiny I went to the local craft store and got these mirror globe ornaments. Then I grabbed some sparkly picks to throw into my floral arrangement.
I had this arrangement with eucalyptus and greenery already. To finish it off I added both real and faux roses to the mix. I wanted the table to have an elegant feel.
I also purchased these gold and white crackers that make each setting a little more personal that individual guests can enjoy as the clock counts down.
For the tablecloth, I used some black wrapping paper I already had on hand. I laid it out going horizontal and vertical.
I went around the house and grabbed a couple vintage candlesticks and then used a mixture of fluted champagne glasses.
Funnily enough, I didn't have a set of 6. So I used what I had, but mixed them up to give the table an eclectic feel.
Gold flatware flanks the gold chargers and white dishes.
I also had these gold dipped water glasses that fit in perfectly!
This is actually the first New Year's Eve table that I have put together and I had so much fun!
I think that mix of gold and black makes things dynamic and celebratory….
This could easily be used for a Christmas table by swapping out a few elements if you wanted too!
More than anything, creating a table for friends and family is about the laughter and the visiting.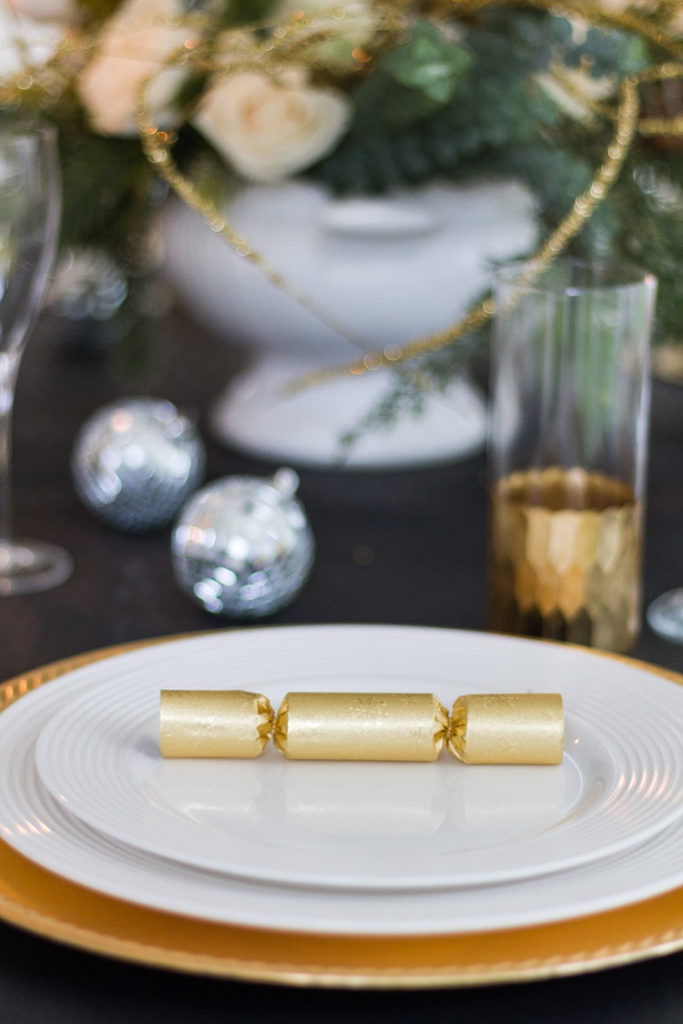 This table could have plastic dishes (which I have done before 😉 and still be just as inviting! It doesn't have to be over the top. Just by interchanging some fun metals, colors and ideas a table can be simply put together!
Ringing in the New Year with ones you love is a special occasion!
I hope this little spread brought you some inspiration!
And don't forget to visit my friends down below for some pretty ideas too! Thanks so much for visiting with me today!

Rooms for Rent | Willow Street Interiors | Nick + Alicia | Nina Hendrick

Ella Claire & Co. | Zevy Joy | Just Destiny | Shades of Blue Interiors

Modern Glam | The Happy Housie | Wildflower Home