These gluten/dairy free rice krispies Christmas trees are perfect to make with the kids!
Hello friends and welcome this week… I can't believe it, but I only have a few more posts for the season and then I will be welcoming you back for the New Year! Today I am joining Kristen at Ella Claire for Christmas Treat recipes. My treat, happens to be a childhood favorite with a small twist, Gluten/Dairy Free Rice Krispies Christmas Trees.
I have seen these trees or versions of them at various parties and thought I would love to make a version that is gluten/dairy free (for my kiddos); that could be incorporated festively throughout the holidays!
I really don't have a long list of ingredients or directions to follow as it is that easy! I basically adjusted the recipe from the bag of marshmallows we were using (Kraft Jet Puffed). And here is what we used…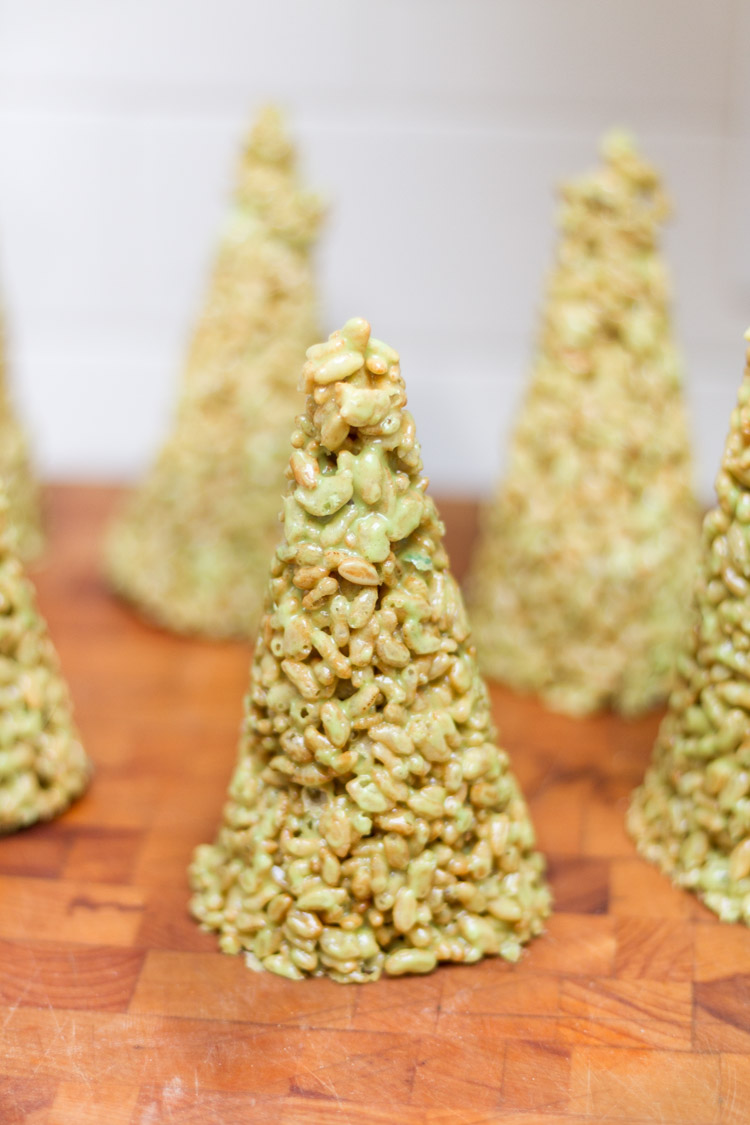 A large bag of marshmallows (16 oz). I actually used double what the recipe called for.
A box of Rice Cereal – we found a rice only (gf) version at our local grocery store as well (we only mixed in about 3/4 of the entire bag with a little left over)
4 Tbsp. of coconut butter (this could replaced with real butter of course).
Green food coloring (I would play with the color though, as these turned a bit yellow, so maybe adding some blue would do the trick?).
Decorating additions: Icing, candy, coconut, you name it… The more the better, my kids said, haha. But of course, I kept it simple for pictures and then let them go to town later.
Now to make these iconic treats, I simply melted the butter and marshmallows over medium heat. Once melted I added the rice cereal and food coloring. I stirred on low heat until fully mixed. And let me say, I haven't made these in awhile, but they are sticky (probably because I doubled the marshmallows)! Haha…
Please note, I got a little creative for the cone shape. I used paper lined with parchment paper, it was a bit of work. So I would suggest finding a mold if you were to make a larger batch of these. Another great idea, would be to use cookie cutters in the shape of trees. This would be just as sweet and festive.
I took my premade icing and had went to decorating each tree. I did it as though it was white garland draped around each Christmas tree.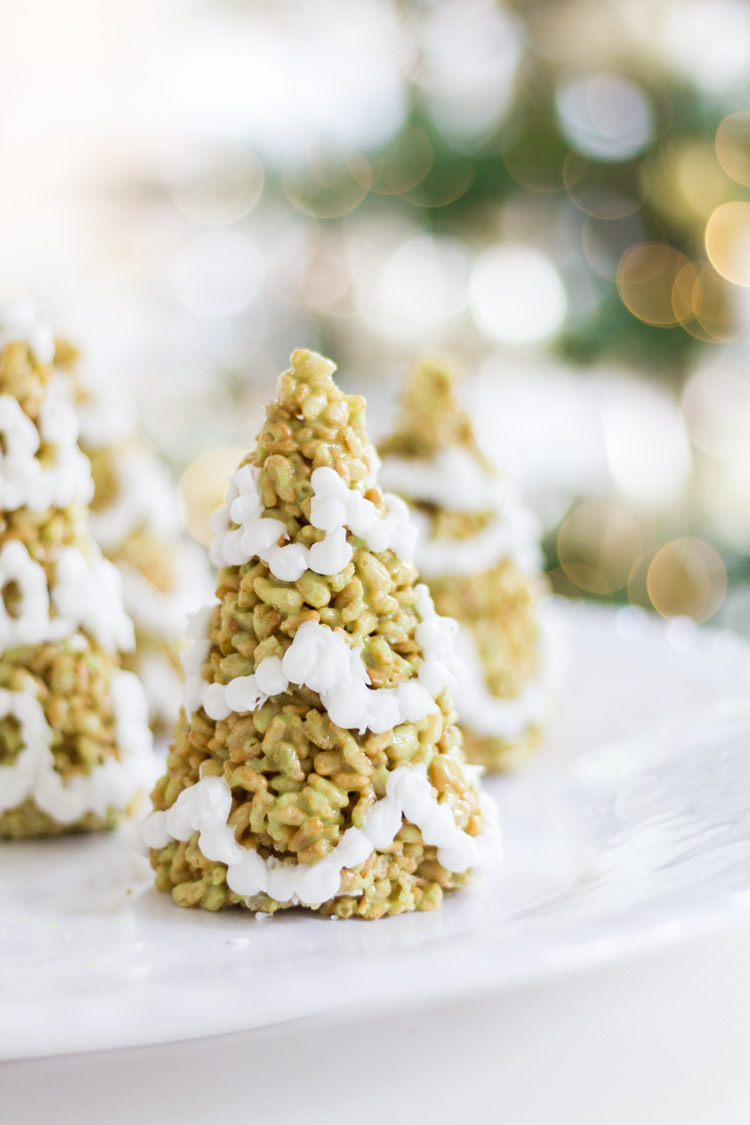 I created a ball linked design just so there was extra dimension.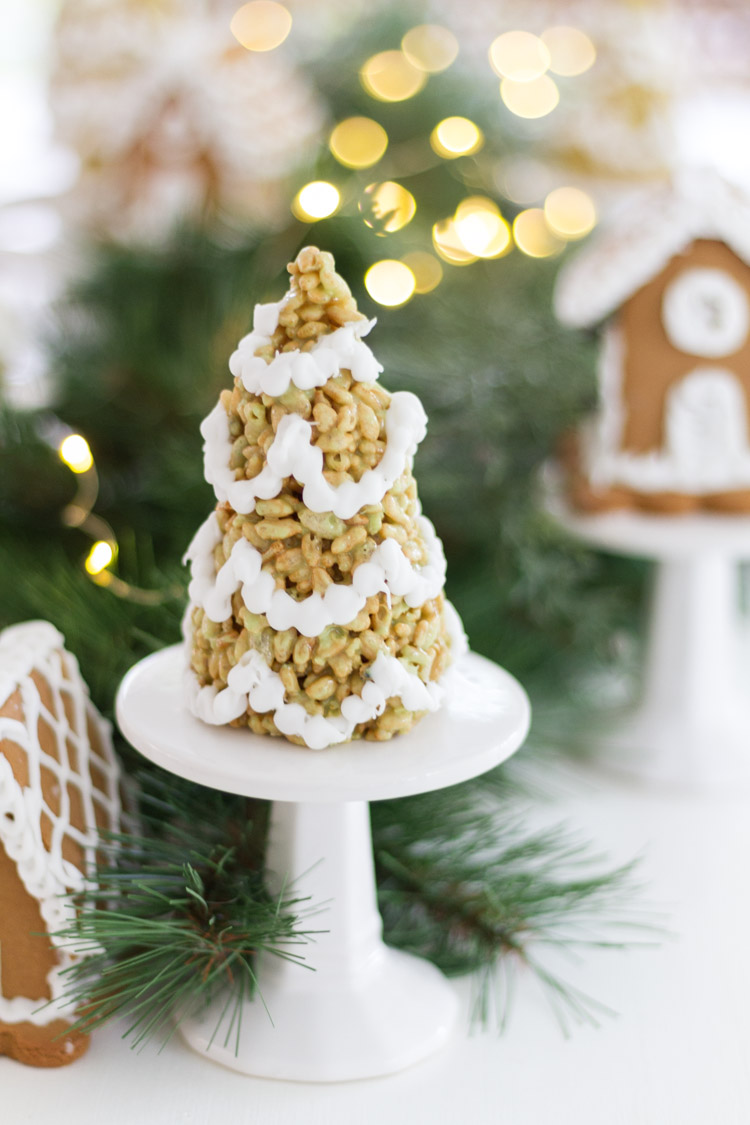 These were so fun to make and I just so happened to have tiny little gingerbread houses I had made earlier in the week… So I decided to pair them all together.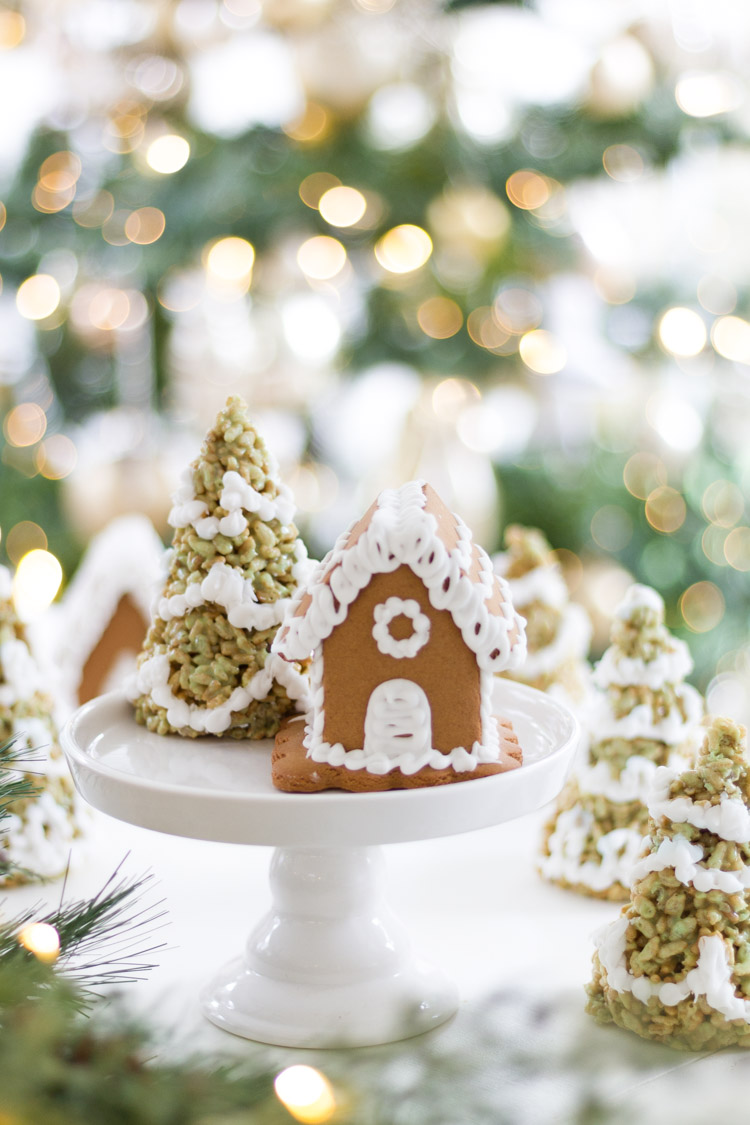 I took it a step further and lined the table with each of these confectionary treasures and made a little tablesscape.
Wouldn't this be a perfect set up for a fun kid's Christmas party?!
I hope you enjoyed and maybe this will give you some ideas for the Christmas season…
I know we did! And please don't forget to visit my talented friends down below, there are some seriously yummy ideas down below…
4 Minute Decadent Microwave Fudge by Ella Claire | Gluten/Dairy Free Rice Krispies Christmas Trees by Zevy Joy | Dipped Marshmallows by My Sweet Savannah | Individual Chocolate Souffle by Town and Country Living | Santa Munch Christmas Popcorn by Tidy Mom
Mini Skillet Cookie Cakes by Inspired by Charm | Cinnamon Buns by So Much Better with Age | Peanut Butter Fudge by Anderson + Grant | Peppermint Brownies by Nina Hendrick Design Co. | Deconstructed Apple Pie Bites by Taryn Whiteaker
Christmas Energy Snack Bites by Nest of Posies | Peppermint Bark by Boxwood Avenue | Gluten Free Chocolate Peanut Butter Truffles by Tidbits | Keto Cinnamon Sugar Pecans by Home Stories A to Z | Candy Cane Pretzels by My Uncommon Slice of Suburbia
Caramel Popcorn Crunch by Shabby Fufu | Individual Ornament Cakes by Summer Adams Designs