Let me show you an eclectic way to decorate your home by mixing vintage and new decor!
Hello friends and welcome to those of you who are visiting from Sarah at Little Vintage Nest, I am so happy to have you here! A big thank you to our host, Summer from She Leaves A Little Sparkle for organizing this fun tour.
Decorating Like A Pro
Today each of us on this tour are sharing how we incorporate or decorate with both vintage and new pieces in our home.  This is my favorite way to decorate for several reasons. One, it is wonderful for those who are working with tight budgets, two, it is an eclectic way to mix up the decorations in your home and three, it is easy to get creative (there is no right or wrong)!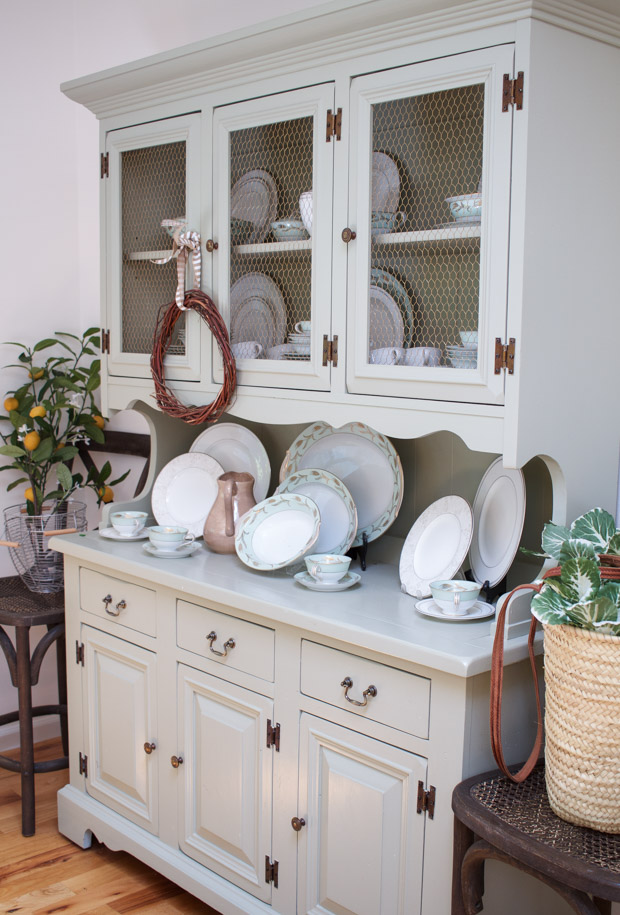 As you can see here, we have my hubby's (grandparent's) vintage hut along with their china. But then, you can see that our wedding china is also intermixed and this piece is a part of our updated kitchen (mostly new).
(Rug from Lorena Canals)
The thing about mixing vintage with new is that you can achieve the look either way and sometimes it is hard to tell the difference… Many of the accessories in my living room are antiques or thrifted, while the table and some furnishings are newer.
Thrift store vases and books are a perfect way to add some vintage to your new decor…
(Driftwood Tray from Family Laser)
An antique lamp sits atop a family heirloom side table with fresh crisp linens and fluffy pillows.
(Rug from Rugs USA)
Our settee was a craigslist find and I am sure it is not vintage, but the chair piece hanging above it was purchased from an antique store. Together they create the perfect pairing of warm wood tones and textures.
These vintage glass bottles are a favorite find and are many years old.
They hold flowers for each season and sit next to our loved on blankets.
This white distressed dresser has been in my family for years and fresh paint can add new life to vintage without taking away its value.
(Bedding from Boll and Branch)
Sometimes, you can take vintage and new and repurpose them together. I did that with the chandelier in our bedroom. It was an eighties light that I painted and hung crystals from making it new.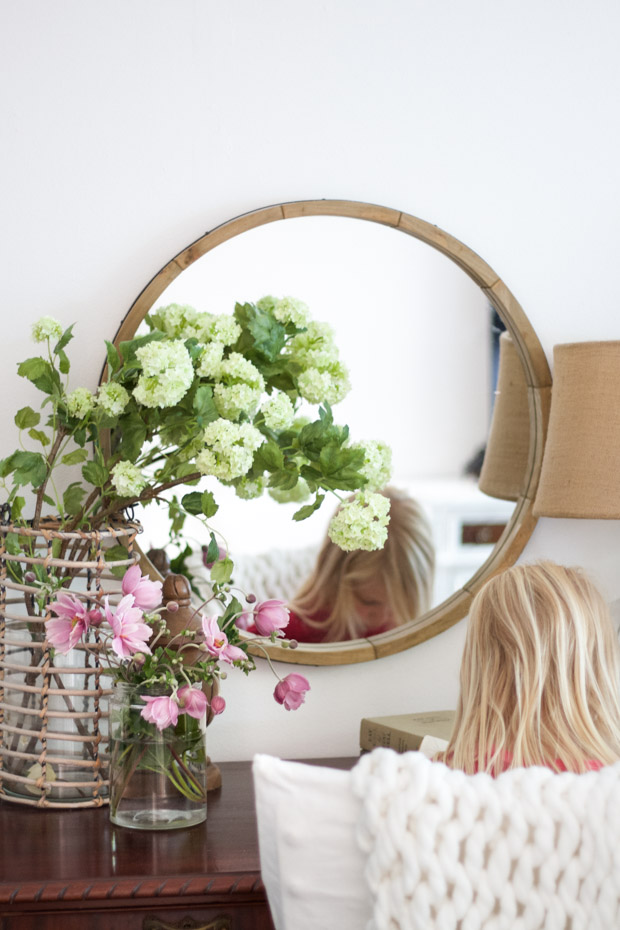 It is a treasure to watch my children enjoy the vintage things in our home like this vanity (another family heirloom) that was used in my childhood bedroom. I freshened up the spot with a recent purchased mirror. I love how the two compliment each other without competing.
I hope this inspires you when thinking about how to decorate with vintage and new! Make sure to head over to Kristen at Ella Claire who is so very talented at this very subject!
For more inspiration, please visit all bloggers participating: