Hello and welcome back to the Shop the House Design Challenge…
If you have been joining me here at Zevy Joy then you are familiar with the fact that I enjoy home decor and in addition I do most of it on a budget. Therefore, in wanting to put the focus on the idea of "shop the house". I've teamed up again for round two with some amazing bloggers to encourage us as bloggers to get creative with the things we may already have. To also inspire you all to shop your house and be resourceful. We have each selected one area of our home that we will continue to use throughout the challenge. For the next few months we will completely restyle the space using only things we already have. We can DIY or transform pieces but only if we have the items on hand for the project. We would LOVE if you want to get creative and play along! Here are the fantastic ladies joining in the challenge…
Courtney from The Hamby Home
Allison from A House and A Dog
Kendra from Momtique
Brooke from Start at Home
Iris from Iris Nacole
Above, I shared our family room/office/guest room decorated for the first round of the decorating challenge. For this round – I decided to take away the pink and green accents and go with a more neutral pallette.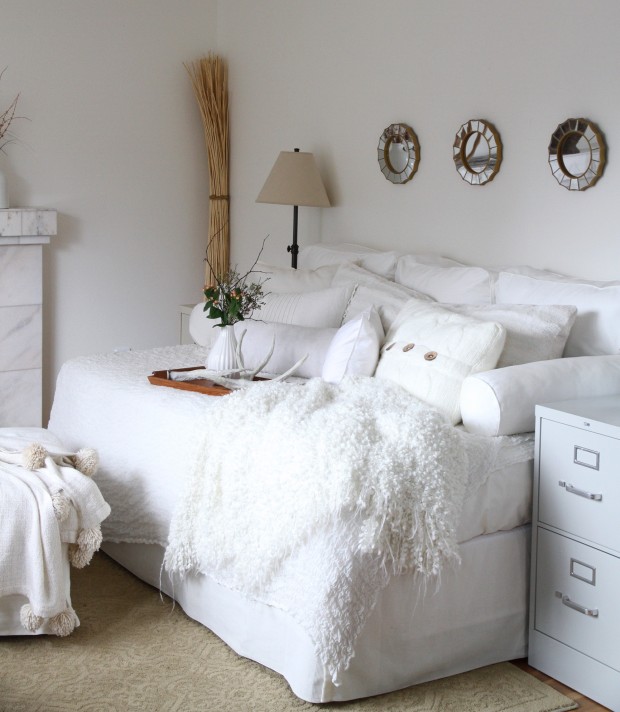 I brought in lots of cozy textures with blankets and soft pillows.  Lots and lots of pillows.  Some of these were already on the sofa/bed and others were brought in from various rooms.
I had these fun mirrors stored away and since I have really been enjoying using lots of metal in my decor, I brought them out to highlight the fireplace.
I moved the mantle around and brought in an embroidery hoop/empty frame that have decorated almost every area in our home.
I wanted branches and rustic touches to compliment the decor, like this bouquet I had in the living room, this diy antler, and faux branches.
I have really enjoyed this challenge so far and sharing how I shop our house to decorate. I hope it leaves you encouraged to try the same if you haven't done it before.  I am always amazed at how I can reuse things or decorate them in a way I didn't think of previously. Like our kitchen tray that is now holding some faux plants.
Thanks so much for stopping by and I hope you will make sure to visit for round three next month!