Hello and Happy Thursday friends! Again, back with all things "Spring" today as I share Coffee Table Styling and a simple DIY for a pedestal Easter egg… I've joined sweet Sarah from She Holds Dearly and some incredibly talented friends who are also opening up their homes.
With the sun showing its face more often and birds singing their songs, I crave filling my home with those feeling of spring. Most times that involves some type of Easter egg and one way or another they find their way on my coffee table ;). So I am going to show you how to do a little bit of both… First I'll start with a simple Easter egg craft.
Here is what you will need and here is how you will put these together. Make sure to stick with me throughout the post as I am going to share my favorite way to style a coffee table too!
You will need: A papermache, cardboard or wooden egg shape, a wooden candlestick (I found this at our local JoAnn Fabrics), acrylic paint, paintbrush, glue gun, glue sticks and anything you may choose for decorating (I found these lovely embellishment stickers at the craft store).
Here is the very Simple DIY…
Simply paint your eggs. I chose this very pale blue.
You can either leave the egg plainly painted or go a step further and add embellishments. I used these pretty stickers and a little glue to give them extra sticky strength ;)…
Carefully line the diameter of the candlestick with hot glue and quickly place the egg on top so it is secure. I am sure craft glue would work as well, I just use my hot glue for so many things and it was on hand.
And there you have it! So easy, pretty and simply stated. My favorite kind of seasonal decor. More and more I am drawn to easy accessories that speak softly of the seasons. Sometimes less is more and in this case I am loving this delicate addition to our coffee table.
Speaking of coffee tables…
I am going to talk about my favorite way to decorate ours, using a few tips!
Work in threes… As you can see here, I have a set of three accessories. Of course you can do more, but I just like this rule for some reason, lol. It keeps things from getting too cluttered.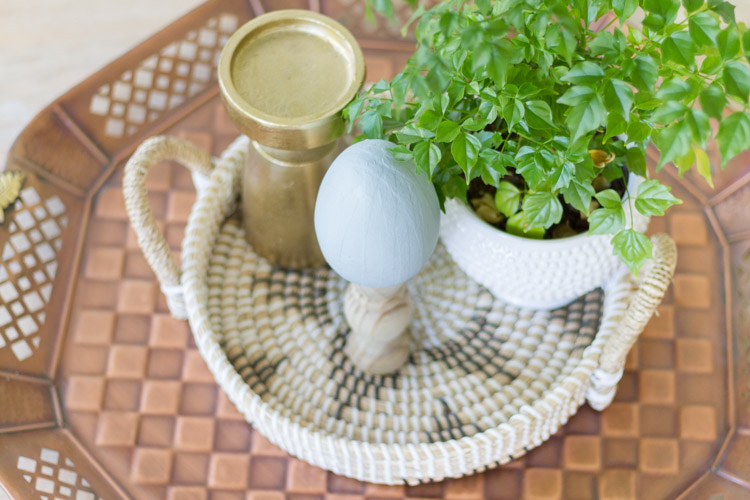 Use a tray and feel free to stack two! I always have a tray that hold my three accessories. I even like to stack a couple trays, one smaller in size on top of the other that contrast in texture. Here you can see there is a metal tray as well as a wicker basket one too.
Have greenery or florals as the focal point… A plant or vase of coordinating flowers will most always be found in the center of my trays. It brings life or color to the scene and is the very best way to decorate in my humble opinion… Clearly I have a thing for plants and flowers ;).
Use varying height and textures/colors… When grouping your three objects look for things that vary in height, something shorter, mid size and then tall such as this plant. I also incorporate metals, wood tones and a pop of white or a statement piece with black. I have some brass throughout this room, so I liked adding in the golden candlestick, as it ties everything together.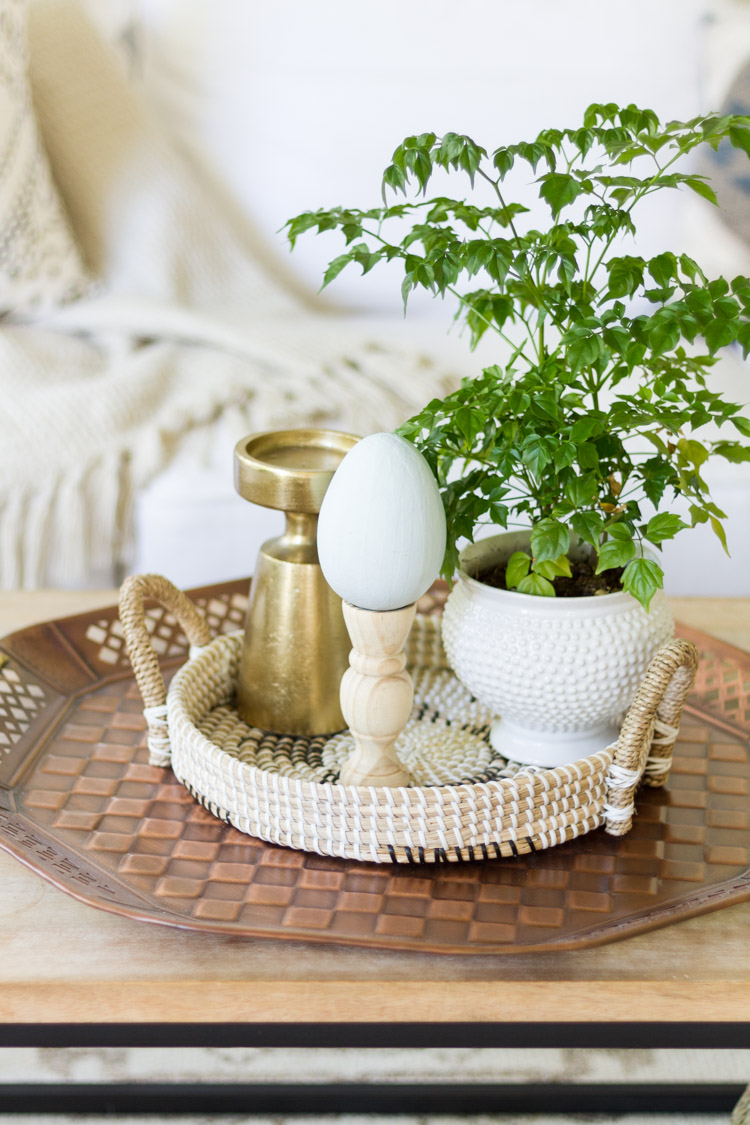 Here below you can see the addition of the eggs and even though it is breaking that flexible rule of threes I talked about earlier… It never hurts to sprinkle a few more of this or that throughout when the season calls for it!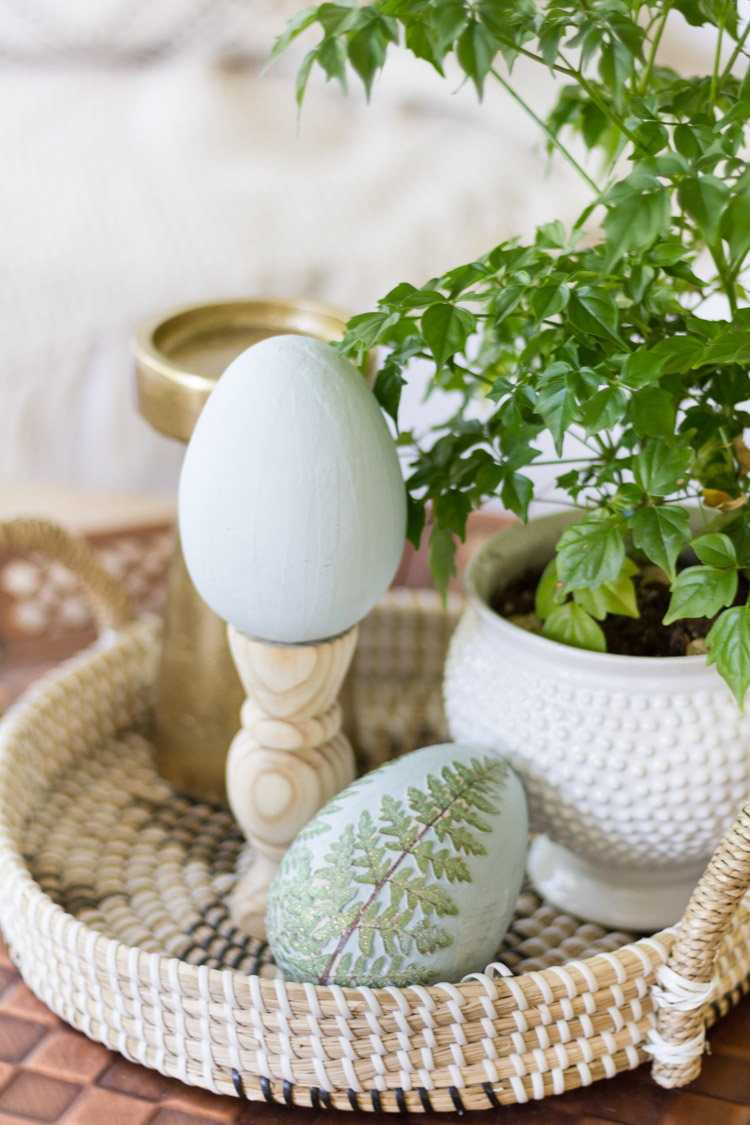 I even played around with a floral one that brought a romantic vibe to the whole set, its always a good idea to mix and match!
I hope you enjoyed these tips and maybe you will give the Easter egg pedestal a try! Let me know if you do…
Don't forget to visit my friends down below for some creative ideas and thanks so much for stopping by you all!
Farmhouse on Boone Julie Blanner Nina Hendrick Design Co.