Hey there friends… this post is going to be simple and it is going to be sweet or to the point ;). I recently took a trip to a few local stores and grabbed up some pumpkins. As I was checking out of the store, I asked the sweet woman helping me if she could let me know the names of each pumpkin variety. So I thought it would be fun to share what I found out with you!
I will disclose, that I think there may even be more sophisticated names out there, but this is what I have learned so far. And P.S… Pumpkins are the prettiest most imperfect produce I know! Why do I get so excited over them?! Not sure, but it really doesn't matter, haha.
Lets start with these blue beauties!! They are Blue Dolls…
I mean just look at their bumpy lumpy shape! The best!
Now just below the blue doll is that dusty looking orange one.
Those are called Cinderella or Fairytale pumpkins. Don't they look like someone has painted a chalky pink paint all over the top?! You can't make this stuff up… its just so lovely.
The next one didn't seem to have as pretty of a name… Although I love these neutral white pumpkins too.
They are just plain ole White Carving Pumpkins. And their mini counterpart down below…
Is just that, a White Mini Pumpkin. Others that I did not buy or are not pictured include varieties of orange carving, jumbo, prize, warty goblins (a little spooky sounding) and orange minis.
And here they all are looking beautiful together. Maybe you found that a little bit interesting as I have always thought that all fancy pumpkins were just Cinderella pumpkins and didn't know that blue ones were blue dolls etc…
Just for fun I've included a round up of some my favorite pumpkin projects here on the blog if you would like to take a look.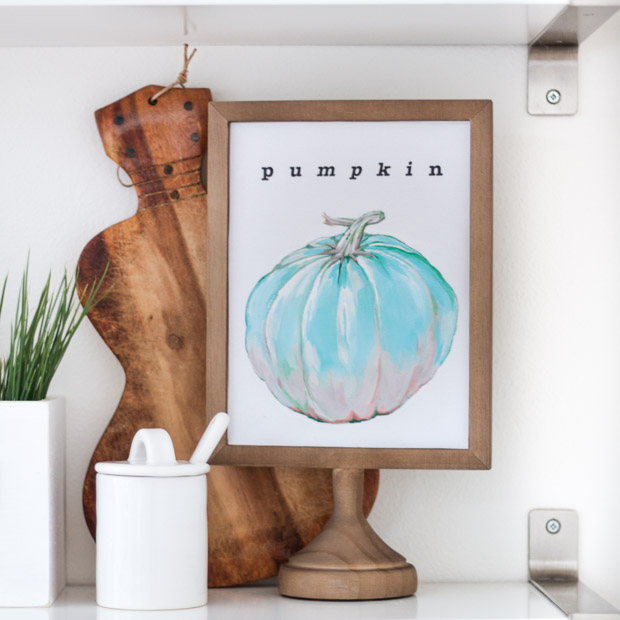 A Royal Pumpkin – Free Printable
Fall DIY Post Sweater Sleeve Pumpkins