I'll be honest… Our porch isn't quite ready for her close up as spring has barely sprung here in the PNW, haha! The leaves are still trying to grow and plants are looking a little sad. But I couldn't resist sharing this space as it is coming together. And more so, I love sharing those in-between phases with you as they are authentic to the process of decorating! So I hope you enjoy a little inspiration as I join Krista from The Happy Housie for some more of her Seasonal Simplicity tours today….
I know you have seen this spot on the porch already as I shared this DIY eucalyptus wreath. You can find that project here.
Our porch is this extra long space as our house is kind of a long rambler, but more a mid-century modern shape. There are two sections, the concrete section and then a little side yard. That is pictured above there and my hubby and I put those large pavers in place year ago. In the thick of spring/summer the low growing grass fills in and it is a pretty space to hang out.
You can see our crab apple tree is slowly blooming and in a few weeks it will be bear the prettiest pink blossoms! I hope I can grab another picture then. The hubby and I also planted this.
I did do a little spending and grabbed this fun patterned table from Target. I love the black/white and knew it would add the perfect flare to our porch.
The pots are covered in moss and need cleaning, but truthfully I kinda like the weathered look. I am not quite ready to start all the gardening and planting, so I simply grabbed a few inexpensive plants and plopped them in empty pots.
Later, I will incorporate them into our gardens. For now, they make it a little more lush where it is still pretty bare.
I flanked the door with large ferns. For some reason, they are browning quickly, so I will see if I can help them survive! But as you can tell, I really focussed on bringing some pops of black and white to this area. I did that with pots, furniture and a cute little accent table. I didn't go above and beyond in the spending department and really stuck to the basics. As fun as it is to get this space super spruced, it isn't always practical or functional especially here where we get so much rain.
And here is a little peek at our new "old" wicker bucket chairs! If you ever get to visit with me on IG or watch my stories over there, you may recognize these. I shared them when I was out thrifting and I couldn't resist taking them home! I love them and how they fill this big empty long space and can't wait to show you more as we finish up the porch in time. I think I will add some DIY cushions, but for a total of 30 dollars, these chairs were a steal and made for this space!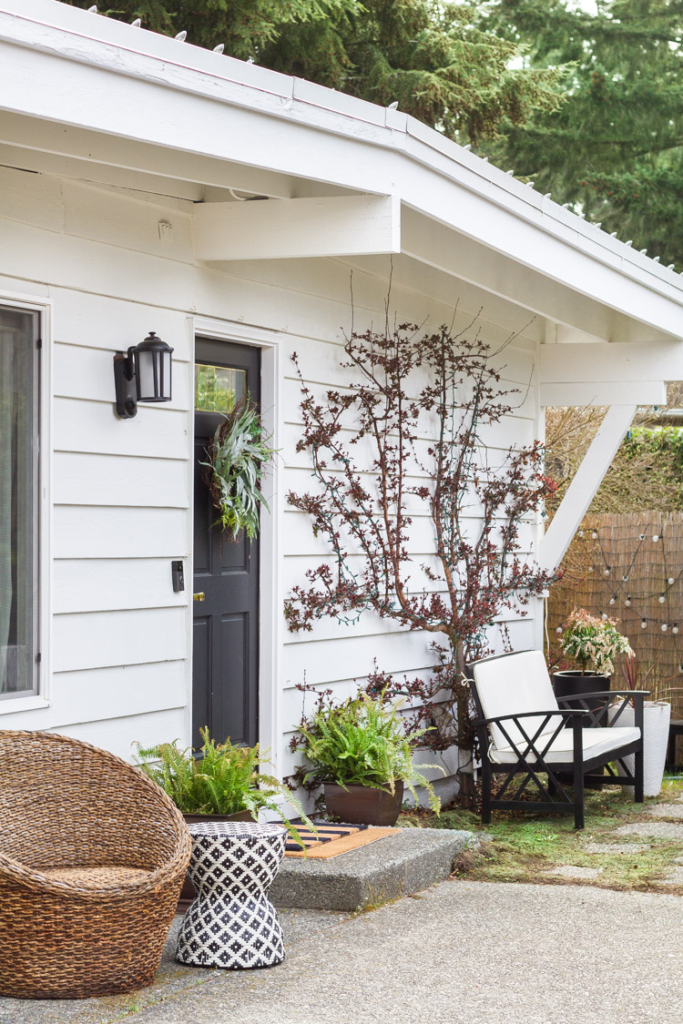 I am so happy to share with you today and don't forget to visit my sweet friends below who are also showing you their spring porches/entries!
Today I'm joined by a fabulous group of blogging friends who are also sharing their Spring Porches as part of the Seasonal Simplicity Spring Series.
The Happy Housie // Lolly Jane // Blesser House // Modern Glam
A Pretty Life // Southern State of Mind // Taryn Whiteaker Designs // Zevy Joy
My Sweet Savannah // Life is a Party // Amber Tysl // Hallstrom Home