Easy and Delicious Marshmallow Yam Bites!
How To Make Marshmallow Yam Bites!
I have been trying to figure out some fun and unique side dishes and appetizers for the coming holidays and that is how I came up with today's little bite size treats! I love yam casserole, but my family doesn't feel the same way, lol… So I thought I would try a single serving version. I am going to share how to make these Marshmallow Yam Bites just in time for Thanksgiving and they will be a perfect addition to any table! I am joining Kristen at Ella Claire & Co. so make sure to check out all the other delicious recipes down below.
The ingredients are so simple for this dish! You just take orange zest, oil (your choice) for brushing, yams, marshmallows, cinnamon and brown sugar…
To prep these up all you need to do is set the oven to 350 degrees. Then slice your yams in circular flats and halve your large sized marshmallows.
Line your parchment lined baking dish with the circular round of yams. Brush them with oil, and then a dash of cinnamon/brown sugar…
You will set them in the oven for about 20 minutes to cook and you want them to be soft (so bake longer if needed) – ready to eat!
At the very end, top the cooked yams with marshmallow halves. Set the oven to broil and let them brown to your liking. Watch carefully as they melt and can burn quickly!
I like to finish them off with a sprinkle of orange zest.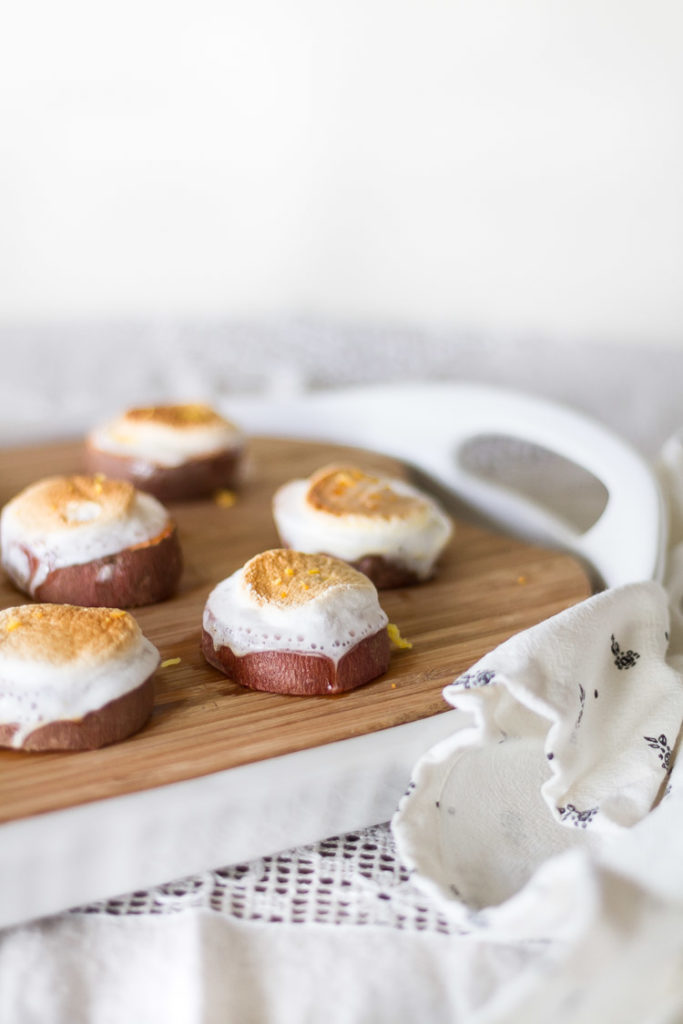 They are perfectly gooey and so yummy!
They are a yummy quick bite and just the right amount of sweet…
It brings a family favorite to the table in a way that can be enjoyed differently.
I hope you enjoy and thanks so much for visiting today! Make sure to check out these amazing appetizers below…
Jalapeno Popper Dip with Bacon by Ella Claire & Co. | Artichoke Dip by Boxwood Avenue | Caramelized Onion Dip by Inspired by Charm
Marshmallow Yam Bites by Zevy Joy | Cheese Board with Baked Brie by French Country Cottage | Pineapple Onion Cheeseball by Handmade Farmhouse