Hello friends and welcome today to the Bloggers Patio Party! I am so happy to have those of you joining me from Kathleen over at Lindsay Hill Interiors, who is also our host for this fun tour! I know you will all enjoy this lovely tour and make sure to visit all these talented friends who are also sharing their beautiful patios today.
This tour was just the motivation needed to do a little work on our sweet and tiny patio. I knew it would be a stretch with budgets, but I also knew that doesn't mean it was impossible.
So I began to map out my plan and worked the design around the floors. The patio floor we created here was inspired by Brook at Nesting With Grace. She has the most beautiful home and I just LOVE her kitchen floor tiles. Her style is so very inspiring and if you haven't already you should go and see for yourself. I thought it would be fun to have a dynamic shaped pattern on our floors and was aware that tiling during this season just wasn't going to happen. So I quickly decided that stenciling the floor would be an excellent compromise =).
(Market Basket from Vivi Et Margot)
There are many wonderful stencils out there and I ended up purchasing this one from Cutting Edge Stencils. Needless to say, it transformed this space with a little paint and we couldn't be happier.
Next week I will be sharing the step by step for this project so please stay tuned…
We also had a hand me down patio set that we needed to use at least another year. So off to Ikea we went for replacement cushions!
We found some inexpensive cushions that we used for both seat bottoms and tops. I split the patio set up to seat four and used the end chairs and accent chairs against the window.
Flowers are still blooming during these summer months, but some spots have not bloomed quite yet. Therefore, I filled in the space with flowers I had on hand (both faux and real).
I really enjoy a simple table when hosting dinners and wanted this one to be just that – simple!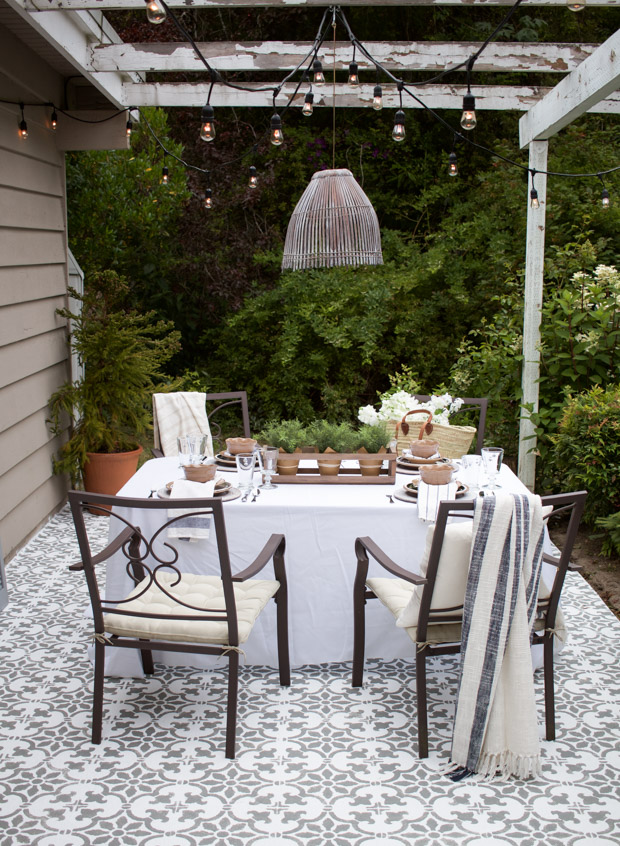 (Sharon Striped Throw is from Birch Lane)
I used casual elements to set the table and several blankets to increase the cozy feature. I even found this lamp shade while thrifting that I hung as a light feature; it felt coastal and rustic all the same. Thrifting or repurposing pieces is such a great way to complete a space (as seen here)
You can see our little square foot garden around the corner here too…
The stencil really pops with all the oil rubbed bronzed furniture and vintage fire pit that we turned into coffee table.
I layered the dining table with food, a very simple meal that would be perfect for any summer menu.
I set out fruit, cheese and some bread to build your own bruschetta and baguette bites and more!
Honey, blueberries and almonds line the table.
The intent was to create a welcoming atmosphere using most of what we already had.
Overall I would say it is a success!
I really enjoyed this tour because it encouraged us to get some work done and I always enjoy sharing our home with you all to visit during these tours. You can find our home here, here and here.
Here is a peek at the space as the sun sets and all those lights really twinkle…
I hope you enjoyed and don't forget to stop by my friend Kelley at Kelley Nan to see her lovely space too! Below are the links to the entire tour –
I really appreciate you being here!