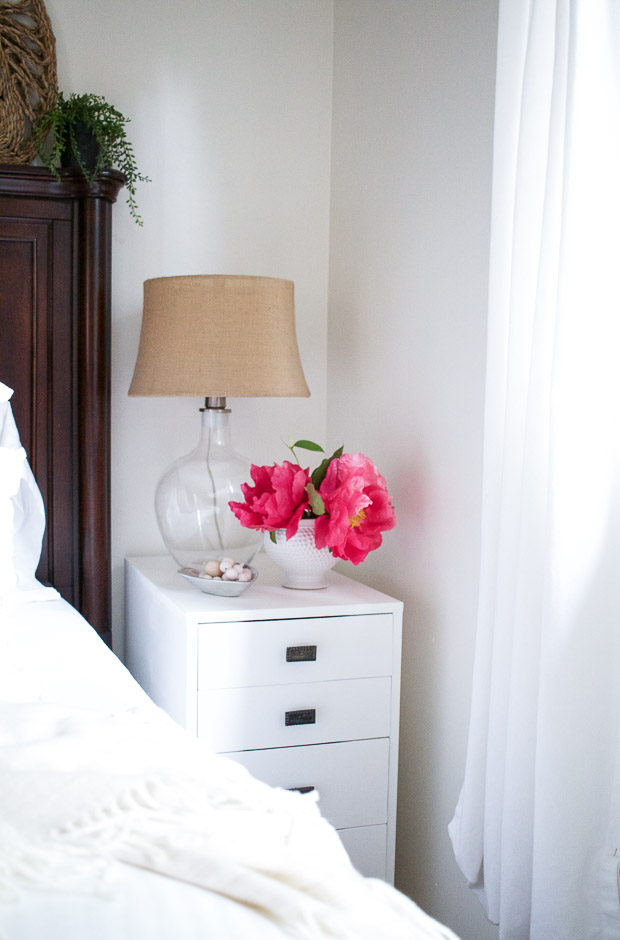 Happy Monday friends, I hope that you each had a wonderful Mother's Day weekend! Ours was really nice and low key. We even had a little time to work on a small project (a media nightstand), which I am back sharing today. I have had this project on my mind for a while and was excited to see it come to fruition (with the help of my hubby of course!)
I don't know about you, but I have always been amazed by all the fun and creative Ikea Furniture Hacks that people come up with. I have always wanted to try my hand at one, but really haven't taken one on until now.
First, I should explain why we felt the need for a media nightstand… My husband and I both tend to do a lot of work at night and mostly in the bedroom because we spend late hours catching up after family time, dinner and the kiddos bedtime routines. Honestly, this cozy spot really is the best place to do it! I spend hours working on photos, blogging, etc… and he spends lots of time grading papers, lesson planning, reading, etc…
Because we spend so much time on computers and other electronics (for example, there is a work computer, a personal computer, an old iPad and our phones) there is also a great need to find a station to charge all of these devices. As of late, our bedroom had become one giant docking station and it had also become the opposite of pretty. It became a pile of chargers and cords, books and other necessities.
So I thought about how we could find a way to store all of these items and charge them at the same time. Unfortunately, most nightstands only have a drawer or two, which was not enough for all of our technology. There was however, this piece at Ikea and I have had my eye on it, thinking we could make it work. After installing it all I really felt like the piece still looked too much like office furniture in our bedroom. So we took it a step further and made it look like a nightstand and here is how we did it.
Here is what we used and how we constructed this piece…
We used this furniture unit, drill and paddle bit (sized the appropriate diameter to pass cord through), plywood sheets 1/8 in width (purchased from JoAnn's), table saw, wood glue (we used this), clamps, chalkpaint/varnish, pilot bit for drilling knob holes and knobs or pulls.
Please practice safety anytime you are using power tools and equipment or cords as listed.
First we drilled holes through the drawers and the back of the cabinet. Note – we did this before inserting or having any cords nearby.
Here is a visual of what it will look like at the very end when we inserted cords.
We also attached a power strip to the side so that we could plug in all the different cords and keep them organized.
Next, we took the plywood sheets (pictured above), traced each drawer that we were covering and cut to size using the table saw.
Once all the drawer fronts were cut we glued them onto the drawers and clamped them into place until dry.
When all the glue had dried I then painted the entire piece with chalk paint to give it a cohesive look. I lightly sanded the entire piece after the paint had dried and then finished it with varnish. After proper dry times we screwed in the new drawer pulls and put the nightstand in place next to our bed.
Both my hubby and I have loved having this new addition as it gives adequate storage and my favorite part that it is all hidden away.
We have worked slowly at making our room a comfortable and pretty place to retire at the end of the day and it was really bothering me that we were letting clutter and electronics impose our space.
These things can already be a constant distraction and I like how this piece is a good reminder for our family that it is necessary to tuck it away.
Thanks so much for joining me here today and I will be back later this week with some helpful tips on storage in a small house. Have a great day all!