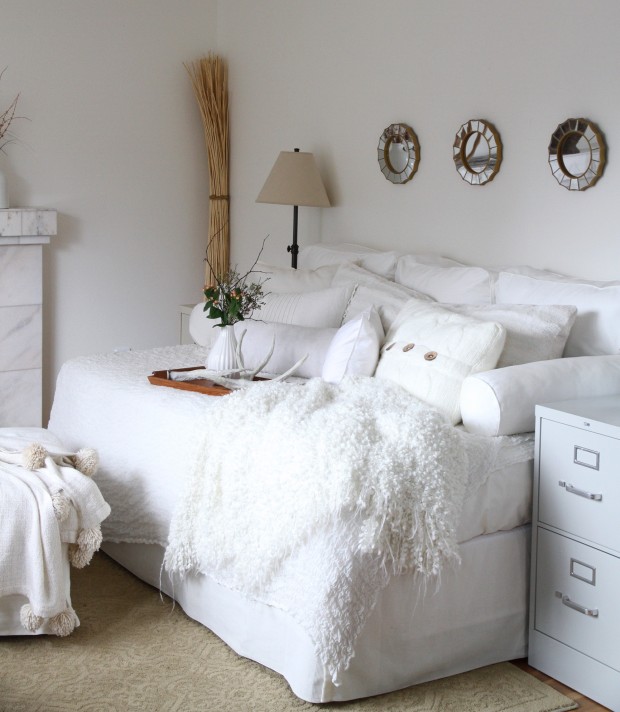 Hello and welcome back to this month's Shop the House Design Challenge (challenge 1 and challenge 2)… Here is a quick recap from the last couple months in case this may be your first time visiting,
"If you have been joining me here at Zevy Joy then you are familiar with the fact that I enjoy home decor and in addition I do most of it on a budget. Therefore, in wanting to put the focus on the idea of "shop the house". I've teamed up again for round two with some amazing bloggers to encourage us as bloggers to get creative with the things we may already have. To also inspire you all to shop your house and be resourceful. We have each selected one area of our home that we will continue to use throughout the challenge. For the next few months we will completely restyle the space using only things we already have. We can DIY or transform pieces but only if we have the items on hand for the project. We would LOVE if you want to get creative and play along! Here are the fantastic ladies joining in the challenge…"
Courtney from The Hamby Home
Allison from A House and A Dog
Kendra from Momtique
Brooke from Start at Home
Iris from Iris Nacole
As you will see I have shared the picture of our room last month up above. Now here below you can see it this month…
Of course it is still mostly neutral =), but this time I brought in some deeper grays, some darker tones and lots of greenery.  I was kind of craving the greenery and it felt really refreshing.
I moved the clothespin wreath (tutorial here) above the mantel, making it the focal point.  I took all the white vases from around the house and collected them together here.
(copper tray from Painted Fox, affiliate link is in my sidebar)
I am always surprised how just moving blankets and pillows around changes a space up.  It is still my favorite way to decorate, use texture and like this very example, quickly transform a space.
Using what you have in the home makes it possible to decorate without spending money. It feels fun and new, and the biggest bonus is you aren't spending money you may not have.
Candlesticks, faux plants and books are some more of my decorating "go to's".  You will see them on my tables, desk, counter, mantel and more. As you can see in this photo, the rain has been falling here but spring is on its way! Although, it has made picture taking a bit grayer and tricker these days.
One thing I enjoy about neutral furniture, is that it is simple to decorate around affordable.  It just takes a couple colorful stripes here and a bright print there…
(buffalo check antler pillow is from So Vintage Chic)
I hope these challenges are an encouragement to take a look around with what you may already have sitting in a bedroom, lying on the sofa, or positioned on a table that can be used other places.
There are not rules (at least in my opinion) that state once a decoration or piece of furniture is placed somewhere that it can not be used somewhere else.  Or even that it may look better in a another room of your home.
Hope you know how much I appreciate you stopping by and please come visit again for our next challenge in April.