Christmas In the Laundry Room!
Some Simple Laundry Room Christmas Decor!
*This post was sponsored by Speed Queen.
We recently updated this laundry room/garage of ours not too long ago and have enjoyed every inch of this newer space! So you can imagine how excited I was at the idea of sprucing it up a bit for Christmas. And to take it a step further, after ten years with a declining washer and dryer we recently replaced ours with a new Speed Queen Set! All that being said, a new washer and dryer has been the icing on the cake in here!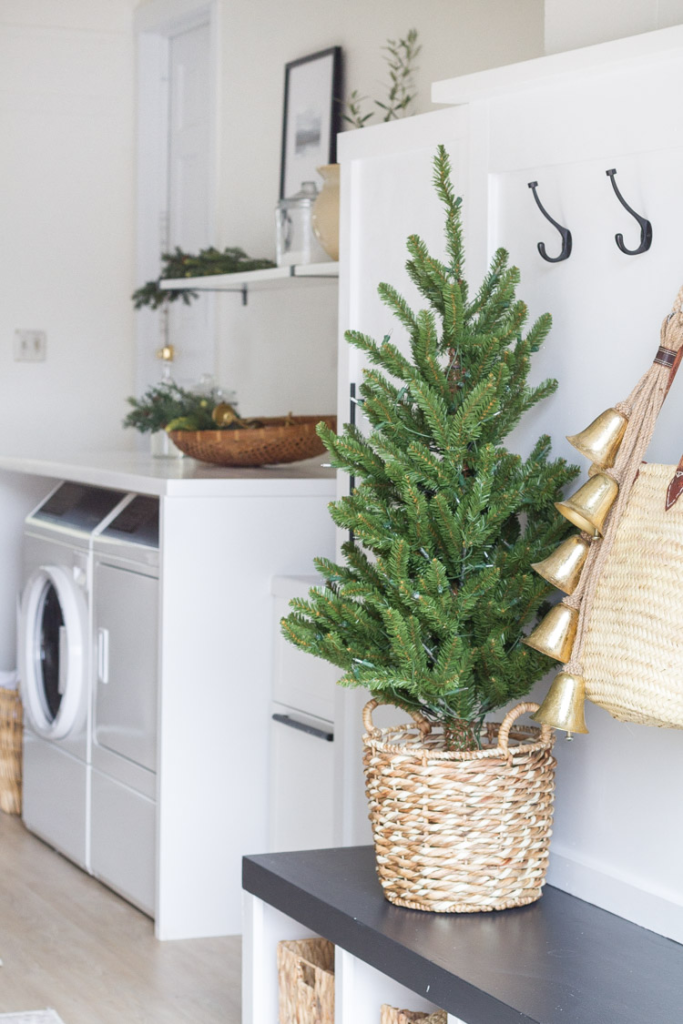 As you can tell, I got this little faux mudroom "Christmas" ready with a small tree, some wreaths and I pulled out some of my favorite seasonal essential oils to make our laundry room and clothes smell that much better…
Like I said earlier, we had been using the same old washer and dryer for years now, a decade to be exact… The dryer's handle had broken off, the settings were losing steam and it just wasn't working like it should.
When given the opportunity to work with Speed Queen, we were thrilled at the idea of trying something different out! Speed Queen is a Women's Choice Award winner for America's Most Recommended Luxury Washer and Dryer. This brand was new to us and we were thrilled about some of the things we were hearing about these units.
After having this set for the past month and doing load after load, I can honestly say we will never look back! These units are incredible and hardworking.
Here are some of the features that we especially love about our Speed Queen Units…
The washer has 9 preset cycles that meet the many needs of different load types (delicate, permanent press etc..).
You can program favorite cycles for future use. For example, we often like to do a soak/prewash with our whites (think sofa covers, sheets, towels, etc…) and you can save that setting for next time.
It is quiet and does a great job balancing loads.
It has 4 soap compartments and if you want to do an extended soak or a prewash, you can just put everything in and set it. It will dispense it as necessary throughout the cycle.
The dryer's auto sensing has been spot on so far. Once it's set, it truly does the job.
The dryer tub is larger and there is plenty of room so clothes can actually tumble around.
And maybe the best thing of all is that Speed Queen has a ten year warranty promotion going on now through December 31, 2019. All the details/information are listed below, but we were amazed at this offer and that you can purchase these quality machines with confidence. That is a huge bonus in our opinion!
Clearly we are fans and laundry just got that much better around here…!
Just for fun, here is a closer look at how I got this space ready for the season too.
Simple faux greenery is spread around. You don't always need garland, you can simply use branches to give the same feel.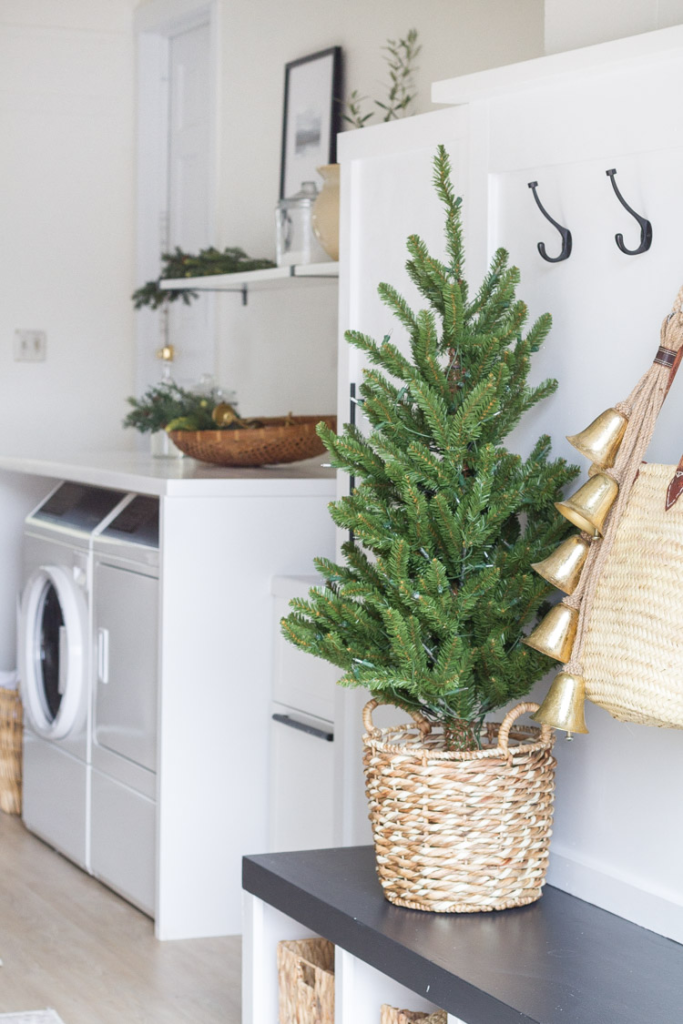 A little tree is a great way to make any wall/corner more festive. I have yet to plug this one in, but I know that the twinkle lights will make folding clothes a little more happy!
Bells are slowly finding their way around every room in the house these days…
Even within a basket of greens.
You may notice it doesn't take much to make a space feel a little more cheerful!
Now we can enjoy the features of this fantastic washer/dryer from Speed Queen surrounded by some Christmas pretties. A win in my book when anything has to do with laundry!
A big thank you to our sponsor Speed Queen!