Hello sweet friends and welcome today to this Home For Christmas Tour! I am always so grateful to have you here joining me and a big thank you to MacKenzie – Childs for sponsoring this post! This post contains affiliate links, please refer to my disclosure page here. I am excited to share some seasonal tips that I hope you will find useful or inspiring as you begin decorating your homes as well!
This truly is my very favorite time of year and decorating has been something I eagerly look forward to. Each year it may look a little different in terms of colors and themes, but one thing remains true…
It is a time to celebrate the reason for the season with loved ones in jubilee of it all!
This year I chose to decorate with some traditional elements of red, plaids and of course texture… 😉
MacKenzie – Childs has this Highland Collection of greenery that really set the tone for our decor this year. I used a variety of the the pretty bouquets to stuff our tree, wreath and even garland! It has the Scottish influence that I am drawn too both esthetically and musically… I couldn't resist having it be a part of our Christmas decor!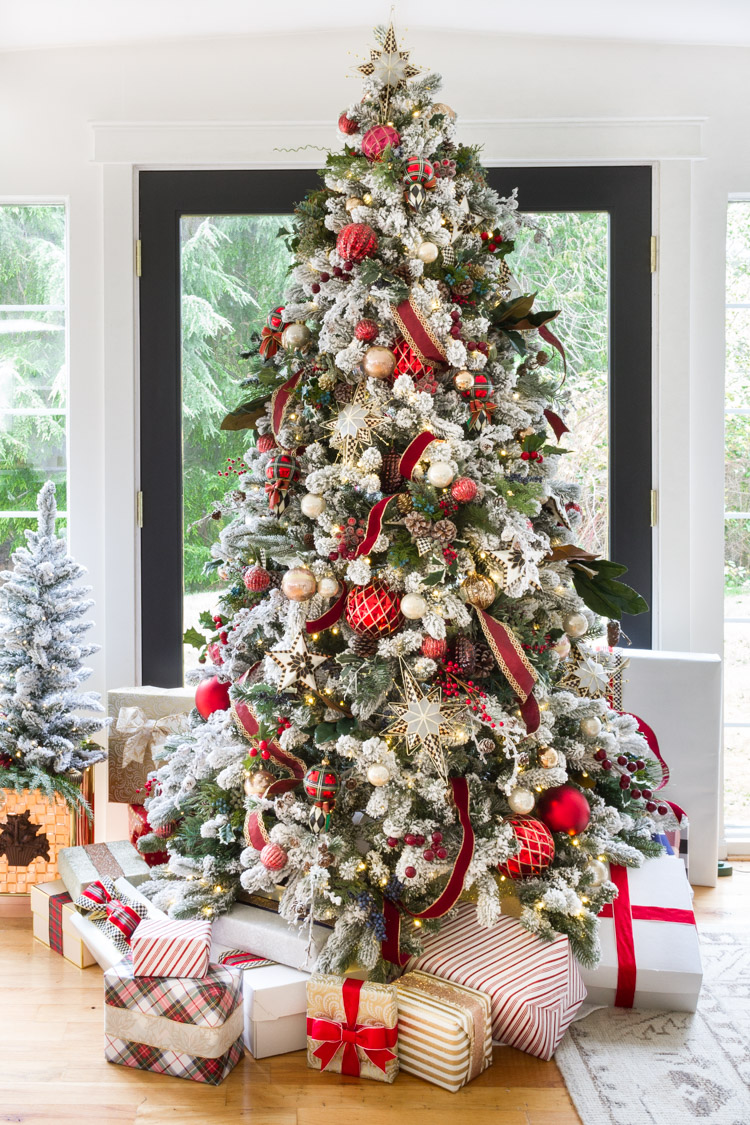 One seasonal tip that I continue to use is to mix greenery throughout different areas of the home. This creates interest within the tree and I find it makes the tree come alive!  As seen with the Highland Bouquets above.
Here I have added real branches too from the outdoors to this Parchment Check Vase atop this special copper patina Portobello Tray.
Tall, short and mid size candles can be scattered along the fireplace for a simple yet beautiful visual. I used some holders I already had as well as these lovely ones from MacKenzie – Childs (Gold Check Taper Candle Holders and the Gold Ribbed Sphere Taper Candle Holder)… The Taper Beeswax Candles really help incorporate the gold and black with their detailed stripes.
Mixing ornaments as well as greenery create texture and movement throughout the tree. 
The Stewart Glass Drop Ornaments display a vivid plaid pattern while the Precious Metals Bethlehem Star Ornaments shine like no other ornament I have seen. A few placed here and there catch the light and make it glisten!
Precious Metals Medallion Star Ornaments bring a handmade value to the tree with their sweet details.  Each year my family has a tradition to make ornaments for our tree and those will get added later on in the season. Handmade touches are a lovely way to incorporate traditions and memories to all your decor.
I really wanted this space to reflect the casual elegance of our home. A place that felt dressed up while still inviting friends to sit down and enjoy themselves. 
Layering trays and decorations fill the tables without overdoing it. 
The warmth of the tree and its glowing lights make every angle magical.
As you walk away from the family room, you will see that our dining room sits directly across from it. 
This room is my favorite spot in our home, as it where we spend so much time over shared meals, lots of laughs, projects and maybe some homework too ;)… 
So as you can imagine, it is also one of my most treasured places to decorate! I love setting the table and envisioning the feeling of having those that mean so much surround it. Sometimes that is a bigger group and others it is small. Either way doesn't matter and there is no right or wrong. Enjoying that company (little or large) is a gift. Decorating for it is something special and why I share here with you today!
Again mixing patterns and dishes is a wonderful way to accentuate settings. Here you can see I used the Thistle & Bee Dinner Plate – Ribbon with some of my everyday ware.  
I topped it with MacKenzie – Childs' Natural Washed Linen Napkins and Gold Dogwood Napkin Rings. 
Little added elements such a faux sheepskin to the bench and a plaid runner to the table, make the room extra cozy and festive. 
Greenery displayed within serving dishes is a creative way to switch things up a bit. Here you can see the Large Highland Bouqet placed inside the Large Parchment Check Enamel Compote with added pinecones and real greens.
Dessert lining the table is an easy and pretty way to decorate the spread! You may notice that Parchment Check finding its way onto the table again. It is such a classic pattern that mixes with the golden accents so well. I used this Small Parchment Check Enamel Pedestal Platter to hold the featured dessert (full disclosure here regarding the dessert ;)… this cake is faux, but so pretty and easy to use for displays. I wish I had the time to whip one up from scratch for this post, but this one looks almost as good as the real thing in pictures).
See how pretty the brush strokes are on this platter and each piece is made special. 
Shop this table look here:

Decorating is an expression and it should reflect you and those who reside there with you. The best part is that it can be so many things. One year for us, it was a white tree with all things neutral, another year it was all green and blue… This year it is bright and warm with natural elements. 
A petite tree finds it way amongst the presents inside this pretty Flower Basket Planter (another container used creatively).
Presents can steal the show with simple bows and ribbon… I created a large puffy bow with their Highland Ribbon and used it as though it were part of the decor (because really it is, until it is ripped open on Christmas day ;)….
I hope more than anything my family and guests feel the love put into preparing our home for the season.
That most of all, they will remember how we spent our time throughout the celebration and look back on it fondly… That they will remember why…
Watching them enjoy it all and seeing the magic through their eyes is a delight…
I am so appreciative that some of MacKenzie – Childs unique and treasured pieces made it into our home this year. These quality decorations will certainly find their way into our home year after year.
Thank you so much for visiting with me today!
You can shop the post down below…

Don't forget to stop by these sweet and talented friends below for the rest of the tour. Their homes are a reflection of their kind hearts and I know you will enjoy!
Remington Avenue | Kindred Vintage Co. | Craftberry Bush | Zevy Joy | House of Five