Gluten/Dairy Free Cupcakes!
How To Make Gluten/Dairy Free Chocolate/Pumpkin Cupcakes!
Welcome back today friends, I am so glad to have you visiting with me. Seems like there has been a lot of food on the blog lately and I'm not complaining ;). Plus I think everything I have shared has been a sweet treat too, haha! Anyhow, I am joining Ashley and Modern Glam for some Cupcake recipes today, mine being gluten/dairy free chocolate and pumpkin flavored!
I tend to use my tried and true recipes that are solid and then build on them. That is what this recipe is an oldie but updated goodie!
Here is what you will need make these fun treats, it makes about 9-10 cupcakes
For the chocolate cupcake:
2/3 cup of cocoa powder (I use carob powder instead and it works fabulous)
1 1/2 cups almond flour
salt
1 tsp. baking soda
1/2 cup date syrup
6 flax eggs
6 tsp. coconut oil melted
2 tsp white distilled vinegar (apple cider vinegar would work ok)
6 tsp. vanilla
dash of cinnamon
For the Pumpkin Filling: (you will have quite a bit of this filling leftover and some will get used for icing, but the rest could be used for another pumpkin recipe as well).
1 cup pumpkin puree
1/8 tsp nutmeg
1/8 tsp. cinnamon
1/8 tsp. ginger
1/8 tsp. clove
1 Tbsp. coconut sugar
For Supplies:
Cupcake liners
Cupcake tin
Here is how you will make these cupcakes!
Set the oven to 350 degrees
Mix the wet and dry ingredients separately for the chocolate base. Then combine wet and dry together.
In another small bowl, mix together the pumpkin filling.
Now scoop a ice-cream sized scoop of chocolate base into the cupcake liner.
Follow that with a small dollop of pumpkin pie filling (not quite a tbsp). You can eyeball this as you want it to say firm in the center and not ooze out too much.
Add another scoop of the chocolate mix to the top. And carefully use a spoon to push this batter around the pumpkin filling so it encloses it into the center.
Set these in the oven for 20 minutes and check. They could use up to 30 minutes depending on how gooey you want the center.
*Please NOTE: Somehow I lost a few of my pictures from my hard drive. So I had to take pictures of pictures from my computer screen. It is a long story, but I apologize for the quality! I still wanted to make sure and show you the steps though.
Remove from the oven and let cool.
Onto the fun part! Get icing (I used a store bought version) ready by incorporating with a mixer a tablespoon or more of the extra pumpkin pie mix. Add a little bit at a time as you don't want your icing to get too runny.
I like to snip the corner off of a plastic bag and put my icing tip in as an icing bag. This always works great!
When I do simple icing on my cupcakes, I start in the center and then move around in a circle and then back up in the center to make them nice and tall.
I will say that I have found with most gluten/dairy free desserts, that they do best when they have been refrigerated and cooled down. These firm up nicely when I do that and taste amazing!
Easy as can be!
I hope that you enjoyed as much as we did!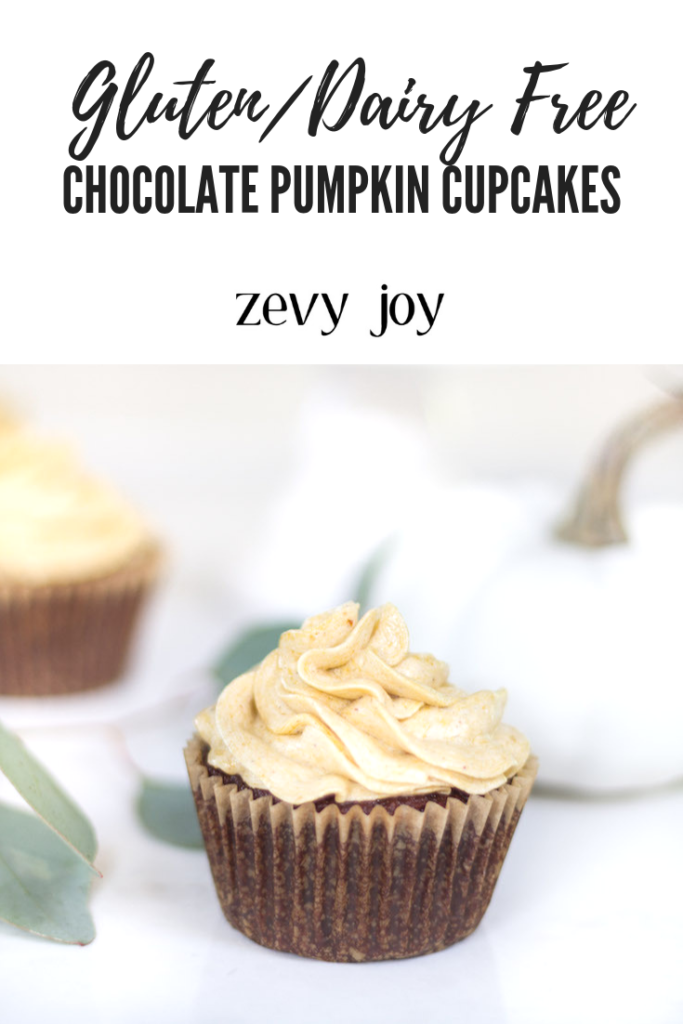 Don't forget to visit these ladies below and all their yummy recipes too!
Fall and Halloween Cupcake Ideas

Easy Halloween Cupcakes / Modern Glam
Best Cupcake Recipes / My 100 Year Old Home
Chocolate Bourbon Pecan Pie Cupcakes / My Sweet Savannah
Gluten and Dairy Free Chocolate Pumpkin Cupcakes / Zevy Joy
Caramel Apple Cupcakes / The Happy Housie
Caramel Corn Cupcakes / Town and Country Living

Mini Cauldron Cakes / Tatertots & Jello
Pumpkin Cupcakes with Cream Cheese Icing / Twelve on Main
Jack 'O Lantern Halloween Cupcakes / Finding Lovely
Easy Kid-Friendly Halloween Treats / Pink Peppermint Design
Banana Ginger Teacakes / Life Is Better At Home