These adorable DIY Valentine checkers are the perfect fun project to make with the kids!
I'm sure I'm not the first to think of DIY Valentine Checkers, but with the holiday right around the corner – this project was fun to make! I have always seen these cute wooden hearts at craft stores and finally found the perfect use for them!
During the Christmas season we were pulling out our board games and had this box set of chess, checkers, and more.  I was exctied to see the checkers board and stated that we should just keep it out all the time (ready to play). My perceptive 5 year old stated that it didn't match because it was red and EVERYTHING in our house is a lush white or cream… oh dear. He has caught on to my love of soft neutrals and I'm not sure that he loves it as much as I do – ha! So I promptly taught him a quick decor lesson that neutrals can go with any color and declared it was just right for Valentine's Day!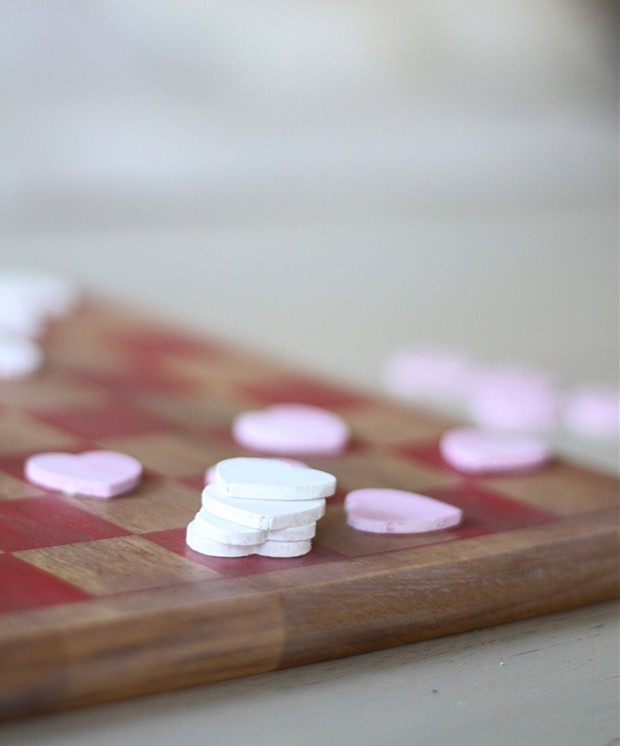 Here is how you can make one too…
You will need a checker board (or you could make one yourself using a square piece of wood and paint on the squares yourself), acrylic paint, paintbrush, 1 inch or small wooden hearts. Optional – After the fact, I decided to age my board by using a chalk paint wash on it (very similar to the tutorial here) and finished it with some wax.
Paint the wooden hearts with your color choices. We used pink and white since the board was red. This was a fun project for the kids too – at least those old enought to paint =). Then age the board if you choose to (this step I did independently since it was a bit messier and less child friendly).
That's it! It was so easy and adds some fun effortless decor for Valentines Day coming! Not only is it decor, it provides some family fun.
(The Buffalo Check Antler Pillow is from So Vintage Chic and information on the large knit blanket can be found in this post here)
Happy Monday friends and let me know if you get a chance to try this out! Have a great week ahead.