Hello Friends and Happy Fall! I am so so excited to have you here today as I am joining some incredible friends as we open up our homes for a Finding Fall Home Tour hosted by the lovely Laura at Finding Home Farms! Welcome to each of you, those who are new here and those who have visited with me before. I am going to take you through the main living areas of our home and share how I have added some simple and rich autumn touches to our spaces…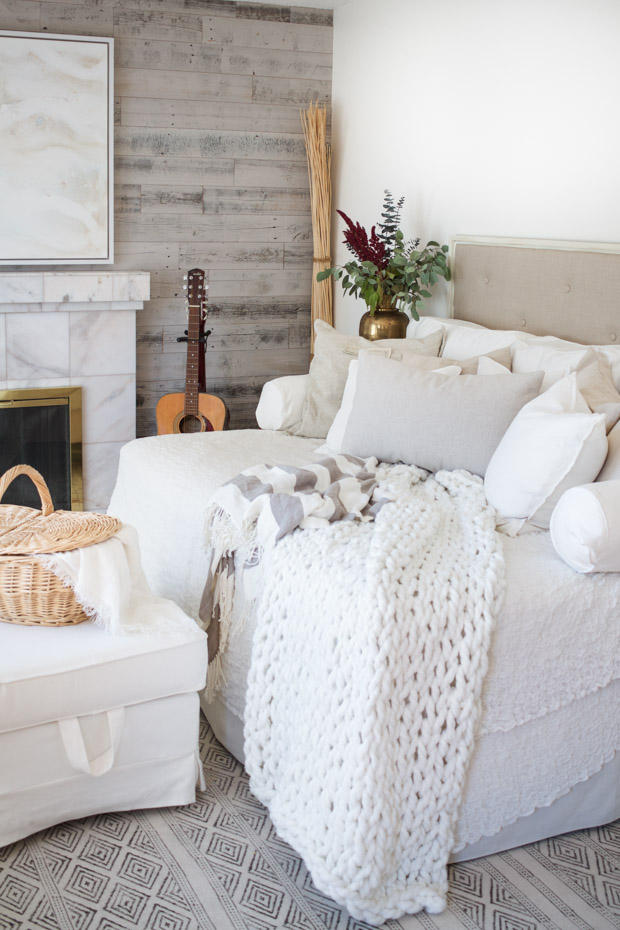 As you come into our home, you will enter our living room. Our home is smaller, so the front door enters straight into this room. It is where we drop our backpacks, purses, hang our coats and leave our shoes =). It also serves as a guest room and an office (you can read about our DIY sofa/bed here).
Pumpkins were not quite ready in our area during this time of the year, so I used what I had on hand and relied on colors/textures to deliver the feelings of fall. I wanted the tones to mimic the richness of the season both golden and vibrant…
As you travel down a long hallway you will find yourself in the larger part of our home, our kitchen.
Where we have maximized storage with a DIY kitchen rack and some open shelving. Kale and butternut squash hang from a market tote. I love having things like this that can serve a purpose while still being beautiful.
We did a small remodel on this kitchen almost a year ago to the day (here) and I have really found so much joy in this little space. Whether it be cooking meals or baking up treats for my kiddos.
Tastes of the season inspire me to start baking as soon as fall rolls around. These plums and pears were no exception and just like the market tote, are lovely decor all while providing a tasty snack or dessert when needed.
We put together these easy puff pastries and finished them off quickly after ;)…
I let these plums and pears become the color scheme for this sweet little tour. They set the tone for how I bought flowers and set our dinner table.
Each element simple and together they all remained cohesive. Giving our small space a flow and a rhythm for just a little bit of money.
From the kitchen you will take a small step up to our sunroom which is used both as our dining room and family room. As seen above, decor was set out and then repurposed for baking and enjoying. You get so much out of your decor when you are able to do it this way.
Golden juicy pears are set on each plate and make a pretty statement set together.
You may have noticed the variety of eucalyptus set atop our dining table here. This is one of my favorite greeneries to use really any time of year. It is inexpensive and fanciful; I absolutely love how it moves and dangles when placed in a vase. Using the same greenery or foliage throughout your home when decorating is a great way to unite the look and feel of your entire home.
Not to forget another favorite use for any season of the year… texture!
Having lots of seating and plenty of pillows and throws full of texture create an atmosphere perfect for this season.
Across from the dining room you will find yourself in the coziest spot of the house, our family room.
Pillows overtake our large sectional (details here) and the amber sun streams through the large windows.
You can tell what season we are in by the color of the sun shining through the glass. I am always amazed as I sort through photos to see how very true this is each and every time…
Relaxed linens and some subtle prints welcome autumn into the space.
A couple pumpkins find their way onto the coffee table and now it is time to enjoy.
Decorating for fall really was simple and enjoyable, it fits our needs and makes us feel at home. Hopefully this inspires you to enjoy decorating purposefully with some delicate touches. I hope you enjoy all the inspiration these talented friends have so lovingly put together. Make sure to go and stop by each one and thank you so much to Laura at Finding Home Farms!